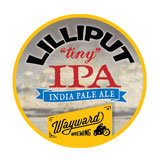 Sydney craft brewing outfit Wayward Brewing has achieved what many thought improbable, releasing its Lilliput "Tiny" IPA. The kicker – it's only 3.8% ABV, but the brewers tell us that it sacrfices none of the flavour associated with the IPA label.
Wayward Brewing tells us that it's "a golden mid-strength session ale, delivering the gorgeous hop aroma and flavour of an American India Pale Ale without the high-alcohol wallop normally associated with the IPA style. Brewed with a complex combination of malts that delivers great flavour while layering in an aromatic feast of pine, citrus and tropical fruit from several massive additions of American and Australian hops; finishing super clean with a smooth bitter finish."
You can find it on tap in Sydney and Melbourne, in venues such as Hart's Pub, The Australian Heritage Hotel, The Little Guy and at the TRUxBRU growler station in Melbourne.