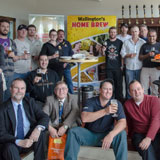 The Great Australian Beer Festival (GABF) organisers have thrown open the doors to a fantastic competition for Aussie homebrewers, with the chance to put their beer making skills to the test and stand alongside some of Australia's most renowned breweries with their very own stall at the 2015 GABF.
If you've got a winning homebrew recipe, then this is your chance to see how it stacks up in competition with other backyard brew bosses from around the country. And if you win, you'll get to have your beer brewed on a much larger scale, under the expert guidance of Matt Cuthbert, Head Brewer at Odyssey Tavern & Brewery.
"We just wanted to do something a bit different to show that we support home brewers," said GABF Festival Director Michael Ward. "Home brewing is becoming more popular and attracts people from all walks of life. We're expecting entrants will come up with some innovative beers as this is a truly fantastic opportunity for aspiring home brewers to turn their commercial dreams into a reality."
The competition is kindly sponsored by Odyssey Tavern & Brewery and home brewing specialists Wallington's WRG. There are five categories in which home brewers may enter; Ale, Lager, Wheat, Dark and Other.
An expert panel of judges will consider appearance, aroma, body, flavour and technical quality with judging taking place at the festival so patrons may observe the process.
Beer submissions open on 6 January so let the malting, mashing, boiling and fermenting begin! For entry forms and further information head to www.gabfgeelong.com.au.