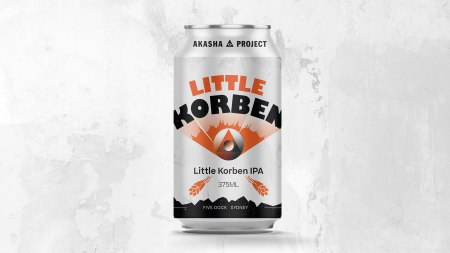 AKASHA BREWING LITTLE KORBEN IPA (6.0%, 375ML)
On first impressions, putting Little in the title appears as somewhat of a misnomer considering its ABV. But when you remember its big brother – Akasha's lauded Korben Double IPA – weighs in at 8.5%, and once you've discovered the ease for which this drinks, then it doesn't seem so out of place after all.
Using the same malt bill and all-American hop line-up (Simcoe, Centennial and Mosaic) as its sibling, Little Korben punches above its weight in all departments without knocking you around quite like the Imperial version is want to do.
The up-front hallmarks of the original Korben are there, with its bright clarity, burnished gold looks and lush ripe passionfruit on a bed of pine needle aromas. It might be more fleet of foot – with less weight in the body and its bitterness dialled down a notch or two – but it's lost none of its distinct fruit flavours, crispness and swishes of chewy toffee sweetness as it deftly works its magic without overpowering any of the senses.
With the limited release Little Korben you can savour much of what makes its heftier stablemate so popular but with a little more sense of the carefree and without losing much of the experience in the process.