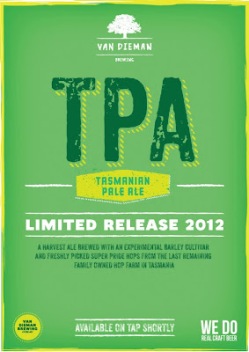 Van Dieman Brewing have released news of their latest Limited Release, a Tasmanian Pale Ale. Described as "a Harvest Ale brewed with an experimental barley cultivar and freshly picked Super Pride hops" it is sure to be an interesting drop.
In a statement on their website the team says: "We get excited here at Van Dieman about releasing new beers, none more so than this ripper Harvest Ale that we are shortly about to release in kegs."
Keep an eye on their blog to find out where said kegs will be heading. They don't call it limited edition for nothing, so you don't want to miss out.