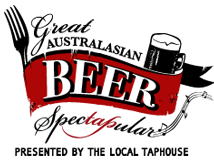 With the worldwide craft beer movement gaining momentum every year it is no wonder that preparations for this year's Good Beer Week celebrations are hotting up. And first and foremost among the events on offer is The Local Taphouse's Great Australasian Beer SpecTAPular (GABS), a celebration of craft beer and food in Australia and New Zealand. At a recent Beerista 101 event, Local Taphouse co-owner Guy Greenstone was eager to talk about the event and all the work that has gone into making it the biggest one yet.
After striking upon the idea to have brewers make specialty beers just for GABS in 2011, they were inundated with interest from craft breweries all over Australia and New Zealand, all of whom were keen to participate in 2012. Such was their fascination, there will now be more than 60 original beers on show by the best micro and craft breweries in Oz and NZ. And Guy assures us that not only is it going to be good, it could get a little bit crazy. With no holds barred, the participating beer nerds have been busily cooking up some Willy Wonka-esque treats– expect Imperial Chilli Pilsner, Beetroot Belgian Ale and a Sweet Potato Porter– the likes of which may never have been seen before. And when it's enough to make the proprietor of, what has been voted as, one of Australia's best craft brew venues almost speechless with anticipation, you know it's got to be good.
The Venue
Having out grown their previous venue GABS is set to be held in the Royal Exhibition Building in Melbourne, after the venue's history and artwork 'spoke' to the team because, as Guy says, brewers love their history and their old stuff. But don't go expecting an expo. The heritage listed building is being converted into a giant European-style beer hall with four bars and a throng of tables and chairs for punters to relax at while getting stuck into the multitude of beers on offer.
Eat, Drink and Be Merry
But if you think it all ends with the beer, you'd be wrong. A brave band of Melbourne-based restaurants and street vendors will be cooking up a variety of 'tasters' and selling them during the sessions. It's a great opportunity to brush up you beer and food matching skills while listening to the free entertainment that will be carrying on through the day. And for those absolute beer geeks among us, there will be free educational seminars running throughout the sessions, in a separate theatrette, to extend your beer knowledge. And don't forget, the brewers will be wandering the floor as well – clearly identified by their '2012 GABS Brewer' caps – so feel free to bail them up and quiz them about their contribution.
The Great Australasian Beer SpecTAPular is on from Friday 11th May to Sunday 13th May at the Royal Exhibition Building, 9 Nicholson St, Carlton Victoria. There are five sessions spread over the three days. For more information and to purchase tickets visit http://www.thelocal.com.au/gabs/