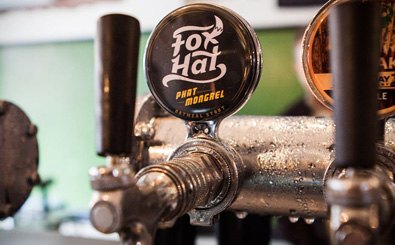 Fox Hat is the new craft beer range from the team at Vale Brewing, with the soft launch of Fox Hat Phat Mongrel late last month and now the release of Fox Hat metric IPA.
According to creator and head brewer at the McLaren Vale-based brewery, Jeff Wright, more beers will be rolled out under the Fox Hat label in the next few months.
"Following the introduction of Fox Hat Phat Mongrel, a big and bold nitro-charged American-style oatmeal stout, we're now finally paying homage to the not-so-new metric age with metric IPA, at seven percent alcohol by volume it's the biggest beer to come out of Vale Brewing," Wright said.
Both products, available in kegs, will make their joint debut in Adelaide tonight at Fox Hat Brewing's 'Our Shout' on Leigh Street, Udaberri from 6-7pm.
"We encourage everyone to come down, join the fun, have a few drinks on us while sampling the beers and chat with the people behind these two exceptional products," Wright said.
"Phat Mongrel is an exciting and innovative craft beer in every sense – and it hits just about every sense. To the eye, the darkness delivered by a whack of black and roasted malts subtly gives way to fine beads of coffee coloured nitro bubbles that rise to a rich and creamy head.
"Then there's the complex hop aroma that hits you right between the eyes on first sniff. Collectively, they prepare you perfectly for a generous and balanced taste with a higher malt character, amplified bitterness and gentle alcohol warmth at 6.5%."
Turning to metric IPA, Wright said the beer pays light-hearted and belated homage to the little-celebrated move from the imperial to metric system almost 50 years ago.
"Malt has long been weighed in kilograms rather than pounds, beer brewed in litres rather than gallons…and we thought a beer that's full of uncomplicated metric goodness, in hops, malt and alcohol warmth, was called for.
"The result is Fox Hat metric IPA, measuring a whopping 80 on the International Bitterness Unit (IBU) scale, boasting seven percent alcohol by volume and offering a solid head with a slight green tinge and simple resinous pine and fruit aromas."
Vale Brewing is confident metric IPA will be as well-received by beer drinking connoisseurs as was Phat Mongrel.
"Favourable word-of-mouth has definitely driven demand and with more and more beer drinkers cracking a Phat Mongrel, it is being introduced into new venues across the country on an almost daily basis," Wright said.
Both Fox Hat beers will be available at the Arkaba Hotel's Beer & Cider Fest this Sunday (28 June), as well as the inaugural Adelaide Beer & BBQ Festival at the Adelaide Showground from 10-12 July.