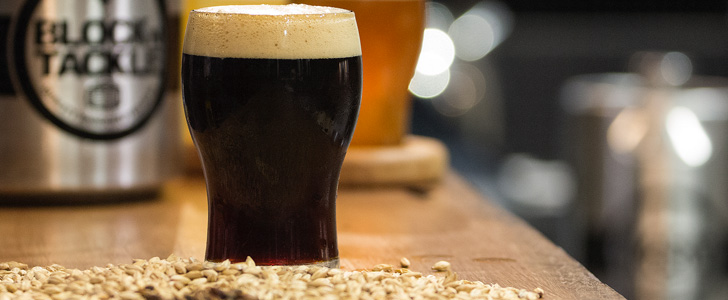 New South Wales' Central Coast is home to an exciting new brewery, Block 'n Tackle, which is already struggling to keep up with the demand for its sessionable small batch ales.
Officially opening its doors in April, Block 'n Tackle is owned and operated by good friends and Central Coast locals – Michael Pepper (Pep), Al Jones, Brett Brown and Greg Tobin.
A qualified brewer with a Graduate Certificate of Brewing from Ballarat University, Pepper has been all grain brewing for the past 15 years, while Jones is an accomplished home brewer who has been all grain brewing for more than 10 years. Brown and Tobin spend time between beer evaluations running the day-to-day operations of the brewery.
With a focus on sourcing the best natural ingredients, Pepper and Jones have formulated their own new brew recipes based on traditional brewing styles from Europe, North America and Australia.
"All our beers are produced in small batches and our aim is to have as many beers on tap at any one time as possible," said Tobin.
"The philosophy behind our core range is all about sessionability, or easy drinking ales. This core range is supplemented by our specialty and seasonal brews, which are rotated on roughly a fortnightly basis."
The core range currently includes; Rip Bridge Golden Ale, Waggy Wit, Sir Thomas Porter and popular brew, Rock Lily Pale Ale.
Some of the seasonal brews to date include; Shipwrights English Bitter, Captain Adams Oatmeal Stout, Captain Adams Onyx-Infused Oatmeal Stout (brewed in collaboration with a local barrister/cocktail champion), Jon Piper American IPA and Red Lizzie American Amber Ale, which is currently brewing and will be on tap in about a week.
"Our Rock Lily Pale Ale is our biggest mover, however each of the four core beers have a bit of a cult following all of their own. The specialty brews have also been selling out in record time," said Tobin.
"Bottom line is we've been struggling to keep up with demand and have just ordered some larger brewing equipment from Germany to boost capacity."
Located in Kincumber, the brewery pays homage to the rich history of the local shipbuilding industry through its beer names and theming.
"Our brewery in Cochrone Street lies on the south bank of Kincumber Creek opposite the site of the George Frost shipyards, which operated between 1884 and 1906. On this site, George Frost built 19 ships the last of which was the steam ship Rock Lily, which our pale ale is named after," said Tobin.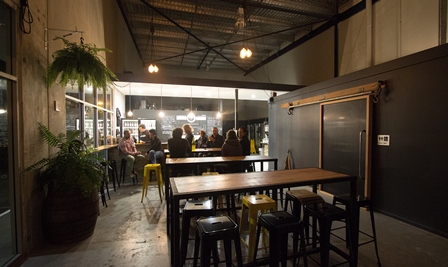 The brewery cellar door offers beer tastings by the glass or paddle, as well as 1L and 2L takeaways of all the brews.
"We currently have a producer/wholesaler licence not a restaurant licence so food is limited to mezze plates matched to the beers, as well as other light snacks including quiche, chips and nuts," said Tobin.
"The bar and tables where guests sit at, are only metres away from the brewing area so they're seeing the beer being made right next to where they are served the finished product."
Block 'n Tackle Brewery & Cellar Door is located at Unit 1, 11-13 Cochrone Street, Kincumber NSW 2251