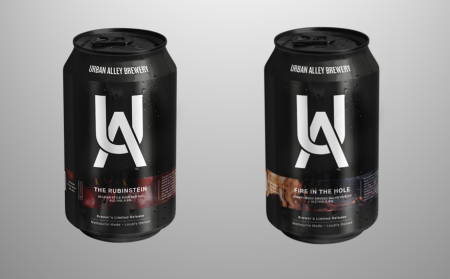 URBAN ALLEY BREWERY THE RUBINSTEIN SOUR RED ALE (4.9%, 375ML) & FIRE IN THE HOLE BALTIC PORTER (5.9%, 375ML)
With Urban Alley's former head brewer Shaya Rubinstein moving on to take up a project manager's role with a medicinal cannabis company the significant void he's left at the Docklands brewery has been filled by Dove Bailey. Originally from New Zealand, and arriving in Melbourne after five years working in New York, Dove started in the role a few months ago and with a passion for water chemistry, lagers and mixed fermentation ales, it sounds like he's well set to continue Shaya's legacy of mixing the traditional with the not so.
Kicking Urban Alley's new beer releases off under the new watch is fittingly a sour red called The Rubinstein – with the brewery saying in its tasting notes: "Without rain there would be no malt. Without yeast there would be no beer. And without Shaya Rubinstein there would be no Urban Alley".
It's a fitting farewell. Beautifully rich in colour, like aged mahogony, there's a good sour smack to the nose that's akin to apple vinegar's initial impact. Delicate dark fruits and spicy esters are well balanced and woody undertones complete its tasteful introductions. The body has a balanced but assertive acidity, while its elegance is enhanced in flavour – as subtle cherry leads into refined oak and malty, brown sugar notes. Wine-like tannins lengthen and dry a refreshing tart finish.
With Fire in the Hole, if you can imagine swirling cigar smoke and chocolate in your mouth simultaneously that may go some way to you picturing its early impact. Like the cool Winter evenings it's made for, it speaks of the outdoors, indulging by a bonfire.
Pouring a deep brown with ruby accents, it's dark like night with a beige head. The roasted malts smoked with American Cherrywood and Australian Stringybark deliver aromas equal parts smoke, tobacco, ham hock, and dusty chocolate. Smoke and fire continues in flavour with a woody nuttiness plus raisin and vanilla while dark chocolate and roasted coffee dish up a light, dry bitterness. The crema-like body is silky, with medium carbonation and its lager finish is crisp and refreshing as smokey notes linger.