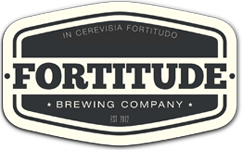 A new brewing venture launched on March 23 in Queensland, is set to make some waves, with a trio of beer fanatics launching their second brewing company.
Fortitude Brewing Co was founded in Brisbane in 2012 by two beer fanatic mates Gerard Connors and Jim O'Connor, and features the talents of none other than ex-Murray's Head Brewer Ian Watson in the brewhouse.
Eshewing the the traditional notion of 'heavy' or 'light' brews, all of the lads' beers sit on roughly 4.0% ABV. According to them, they enjoy a good beer 'session' and in keeping the alcohol steady the company aims to make all of their beers "sessionable".
Currently, Fortitude has one flagship Ale, aGolden Ale, which is their interpretation of the
modern British Golden Ale. The Ale is brewed with malted barley, wheat and light caramel malts, and Nelson Sauvin, Amarillo and Cascade hops and reportedly has a crisp, dry finish.
But not content to stop there, last week the trio launched Noisy Minor Brewing Company – the "extreme sibling" to Fortitude Brewing Co.
And if their launch style was indicative of their future intentions, then great things can be expected from this lot.
Instead of starting slowly and launching just one beer at a well-respected craft beer joint, Noisy Minor chose four of the best beer venues in Brisbane – Archive, Scratch, Bitter Suite and Tippler's Tap – and launched two brand new beers at each venue. The result was an instant pub crawl and a lot of hype for the new venture.
The beers and venues were as follows:
Scratch Bar: Saison Froment (100% Wheat Farmhouse Ale) and Grim RIPA (Black Rye IPA)
Tipplers Tap: Red Ryeding Hood (Red Rye Ale) and Yastrebov (Ukrainian Imperial Stout)
Bittersuite: 3 Dragons (Burton Ale) and Doppelganger (India Doppelbock)

Archive Beer Boutique: Anzus IPA (India Pale Ale) and RSVP (Rum Smoked Vanilla Porter)