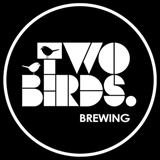 Jayne Lewis and Danielle Allen, the team behind Two Birds Brewing, have announced that their long search for a brewery to call their own has finally come to an end. Two Birds Brewing will set up shop in Melbourne's inner-west, with the first beers to flow from the new set up 'sometime in 2014'.
It's been a little over two years since the pair went into business together, after Jayne left her gig with Mountain Goat to team up with Danielle. Since then, the pair had been on the hunt for a suitable site to set up their own brewery, settling on a location in Spotswood.
"We've proven to ourselves that a real demand exists for our product," said Danielle. "We've always had the end game of owning our own brewery in mind and we've worked hard over the last few years to ensure that we built a solid foundation for our business, because we're here to stay. We've definitely taken the "one-step-at-a-time" approach, so we've had to be patient, but it has been worth the wait."
The new brewery will consist of a brand-new 18hL 2 vessel DME Brewhouse, which is on its way to Melbourne from Canada, and will provide enough volume to service the growing demand for Two Birds beers for the east coast of Australia. The west coast market will continue to be looked after through the existing contract brewing arrangements with Gage Roads Brewing in WA.
"The brewhouse and tanks ship at the end of the month and we hope to have it commissioned and be brewing beer on it before mid year," Jayne said. "Owning our own brewery is a dream come true for us and I can't wait to have more flexibility to increase our range of beers and experiment with brewing new styles. We are very much looking forward to having a homebase and for craft beer lovers to be able to come and visit us at The Nest!"
For more information, or to keep up to date with how the brewery is progressing, visit the Two Birds website.