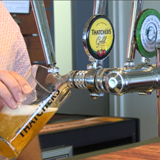 Coopers Brewery (SA) has entered the cider market in Australia, inking a deal with English manufacturers, Thatchers Cider. The deal will see Coopers taking on responsibility for kegging draught Thatchers Gold at its brewery in Regents Park, and distributing it nationally to the on-premise market through its Premium Beverages arm.
"We expect Thatchers Gold will have a major impact on the draught cider market in Australia," said Dr Tim Cooper, Managing Director of Coopers. "It is highly regarded as one of the world's best ciders and is a great fit within our portfolio of quality beers. We are determined to establish Thatchers Gold as a premium brand in the growing Australian cider market."
The agreement, which was signed late in 2013, marks the end of a three-year search by Coopers to find the right partner to enter the cider market in Australia.
"Chairman Glenn Cooper and I met Martin Thatcher and his team in the UK and felt an immediate affinity with them," Dr Cooper said. "Thatchers is a fourth generation family business that produces premium quality products. It has been growing rapidly in the past 20 years and the fit seemed right. We are extremely excited about the possibilities."
"There are so many synergies between Thatchers and Coopers that I'm absolutely convinced this has always been a partnership just waiting to happen," said Martin Thatcher, Managing Director of Thatchers. "Both companies share similar values of heritage, family history, quality and most importantly a deep rooted care for their business and their customers."
"Thatchers Gold, crafted in Somerset, the home of English cider, is a cider that represents everything that we at Thatchers cherish and we are delighted that we may soon be sharing our cider with Coopers' customers – we hope our friends in Australia will enjoy their pint of Gold as much as we do in the UK," he continued.
The cider will arrive in Australia in bulk tankers, to be kegged by Coopers into Coopers standard kegs, which will slot straight into existing systems of pubs and clubs around the country that are already set up to handle Coopers kegs.
Coopers Chairman, Glenn Cooper, says that they are currently in negotiations to have Thatchers Gold on sale at the Clipsal 500 V8 Supercar event in Adelaide, scheduled for 28 February to 3 March. Plans are also underway for an Australia-wide roll-out of Thatchers Gold to on-premise locations.
Thatchers is a fourth generation family company that began producing cider in 1904 when Martin's great grandfather William Thatcher started making the product on his farm at Somerset. It began selling draught cider to pubs in 1904. Today the company grows apples on 360 acres and processes around 25,000 tonnes of fruit per year. Products include a range of single varietal ciders, premium, draught and fruit and pear ciders.