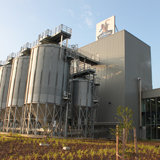 On 23rd January, at 9am Carlton & United Breweries (CUB) Management
broke the news with brewery staff, that the Central Coast located brewery, one
hour north of Sydney, was going to close down in 6 months time.
The
brewery is well known as the home of Bluetongue, launched by a team of
passionate beer lovers and businessman in 2001, with John Singleton buying a
stake in 2005, then in 2007 was acquired by Pacific Beverages and then in
December 2011 acquired by SAB Miller. The brewery today brews Bluetongue along
with being the site for brewing under license of Peroni, Miller Chill and
Miller Genuine Draft, all SAB Miller brands.
The
reasoning for the close has been given to Beer & Brewer by Jeremy
Griffith, CUB Corporate Affairs Director, as follows:
When you look at CUB's production facilities, all of
which are on the east coast of Australia, they include Warnervale in NSW,
Yatala in Qld, Abbotsford in Vic, Cascade in Tas and a Cidery in
Campbelltown (NSW).
Yatala and Abbotsford each have capacity for 4-5
million hL per annum, whereas Warnervale only has 0.5 million hL per
annum.
There is plenty of capacity in the existing breweries
to facilitate supply without the Warnervale brewery.
What will happen to the
brewery and staff? Mr Griffith explained the following:
The brewing equipment and technology at Warnervale is
not being sold, as it includes innovative packaging equipment and
technology needed up at Yatala to continue their capability of packaging
Peroni, Miller Genuine Draft and Miller Chill.
When asked by Beer
& Brewer what if CUB gave this notice prior Casella and CCA
forming The Australian Beer Company, would have CUB entertained selling
the brewery back to CCA, Mr Griffith said "no, the Warnervale brewery has
really good capability" and the equipment will definitely be used up at
Yatala as mentioned above.
The 64 staff have been given six months notice, and the
aim is to deploy some staff to other CUB operations.
Beer & Brewer is sad
to hear of the Bluetongue brand ending, after such an interesting short history
and great support of its local community. We hope all staff wishing to stay in the industry can find another job as soon as possible.