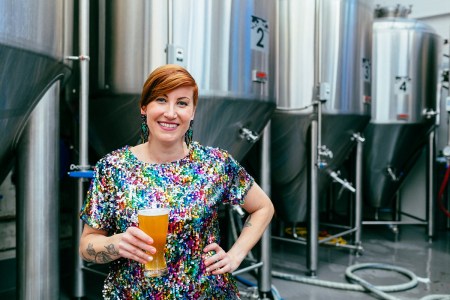 After 12 years at the helm of Australia's first female-led brewery co-founder Jayne Lewis will leave Two Birds Brewing at the end of April to pursue a new career in brewery consultancy with a focus on "people and culture".
Speaking with Beer & Brewer, an emotional Jayne spoke of being "equal parts terrified and excited" on the day when her departure was announced.
"(Two Birds) is part of my identity, right. I know it's the right (decision) but that doesn't mean it doesn't come with all of that emotion and all of that feeling. It's a lot to process, let's just say that."
Alongside Danielle Allen, Jayne founded Two Birds in 2011 after a successful and trail blazing brewing career which included working for Little Creatures before taking the head brewer role with Mountain Goat. She has also been one of Australia's foremost torch bearers for equality in the brewing industry having helped establish this country's own chapter of the Pink Boots Society and, among other causes she has helped champion, most recently the Beer Agents for Change collective.
In early 2021, Two Birds joined Stone & Wood's parent company Fermentum's family of brands and was then part of their outright sale to Lion later that year.
As part of that sale Jayne had returned to a production leader role with Two Birds – a position she coveted again and cherished but which, she said, ultimately led to her decision to take a new path.
"(Getting to this point of departing Two Birds) has been an evolution as much as anything else.
"One of the things I've been most happy for since the sale (to Lion) was the ability to wear a single hat. One of the toughest things about running a business is all the hats you have to wear. Which I've loved as well. But it also does get challenging. So going back to a single hat and being production leader was something I really wanted and needed.
"But over the last two years I've been working with my team a lot and realised that's the stuff that inspires me and really lights me up and watching the team grow and advance – that's the part I'm really passionate about.
"Being able to find a way to lean into that, and have an impact and help people grow and assist that side of things in the industry was something that seemed really aligned with my direction in life and where I can add a lot of value and hopefully something that people want to engage with."
Jayne said a lot of what comes next for her is still up in the air but at this stage she sees her future as an independent brewery consultant that naturally works on the process and sensory side of brewing beer but also as "a HR for hire with a strong focus on people and culture".
"Potentially (I can be) that missing link for a small brewery owner who may not be able to hire someone outright but needs to bring certain skills in on a project basis."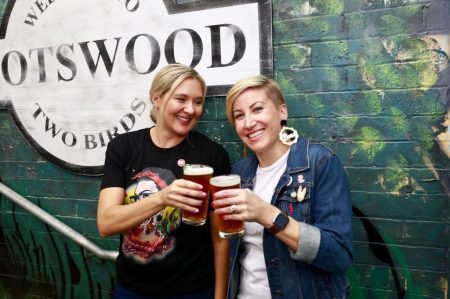 In a statement put out by Fermentum, co-founder Danielle (pictured above on the left with Jayne) said: "Starting a brewery together wasn't such a crazy idea after all! We learned an incredible amount along the way and enjoyed many beers together.
"Jayne led the way for the Two Birds brand to represent women in beer, along with pushing the boundaries of the craft, I wish her success in her next endeavours."
Jayne told us she's hoping to brew one last limited release before she leaves on the Two Birds brew kit she installed, so we'll keep you posted on that when we can.
In 2021 Jayne was the recipient of our peer-nominated Lifetime Achievement Award. Something she said to us then seems wholly appropriate to revisit now.
"I felt I've just done what needed to be done at any particular point in time – both for myself and for the greater good of the industry. I've picked my own path without worrying too much about what I should or shouldn't be doing from a societal standpoint but then also recognised where spaces existed and where people needed support. And I guess that has been shown with things like the Pink Boots Society and the need for women to have a sense of connection in the industry. But it has also been a matter of seeing gaps for diversity in the industry in general. It's so much wider and deeper than gender and I'm really heading in that direction at the moment. Effectively, I think I've helped see where inequality exists and gone 'ok, what can we do to rectify this?'."
---