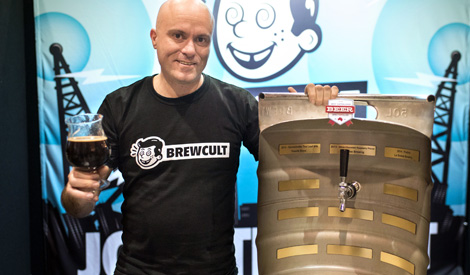 A record 22,500 people have turned out for the 2015 Great Australasian Beer SpecTAPular (GABS), with 16,200 attending Melbourne (up from less than 12,000 last year) and 6,300 people through the doors of the first Sydney GABS event.
"The response to GABS 2015 in Melbourne and Sydney has blown us away, with both events better attended and more successful than we could have hoped for. We feel it really confirms the increasing interest in craft beer, and the uniqueness of our event," said co-founder Guy Greenstone.
GABS showcased 118 one-off Festival Beers brewed especially for the event by brewers from around Australia and overseas, with festival-goers invited to vote on their favourite beer to take out the Beer & Brewer People's Choice Best Festival Beer award.
This year's winner was Steve 'Hendo' Henderson from BrewCult in Melbourne who won with his sweet stout 'Milk and Two Sugars' made using cold-dripped coffee and vanilla beans.
The Top 20 Beer & Brewer People's Choice Best Festival Beers at GABS were:
'Milk and Two Sugars' Sweet Stout – Brewcult (VIC)
'HazElla' American Brown Ale – 2 Brothers Brewery (VIC)
'Golden Stout Time' Sweet Stout – Big Shed Brewing Concern (SA)
'Nightcap' Russian Imperial Stout – Mountain Goat Beer (VIC)
'Puffinus Huttoni' Soured Fruit Beer – ParrotDog (NZ)
'[ragna]RÖK' Double IPA – Ekim Brewing Co (NSW)
'Banoffee Pie Dessert Ale' American Brown Ale – Mismatch Brewing Company (SA)
'Peach Saison' – Burleigh Brewing Co. (QLD)
'Betelgeuse' American Amber Ale – KAIJU Beer (VIC)
'Bébé Rouge' Fruit Beer – La Sirène (VIC)
'Spotted Dick With Custard' American Barleywine – Moon Dog Craft Brewery (VIC)
'The Marsellus Wallace' Porter – Duckstein Brewery (WA)
'Kill Patrick' Dry Stout – Black Hops Brewing (QLD)
'Velvet' Sour Beer – Homestead Brewery (WA)
'Pucker Up – Black Doris Bam'ba'Lambic Baltic Porter – Mike's Organic Brewery (NZ)
'Snickers' Brown Ale – 4 Pines Brewing Company (NSW)
'Bossa Nova Baby' Speciality IPA – Garage Project (NZ)
'Midnight in the Carpark of Good and Evil' Specialty Beer – Young Henrys (NSW)
'Almonds of Steal' Brown Ale – Mildura Brewery (VIC)
'Bourbon Old Fashion Cocktail Beer' Old Ale – Panhead Custom Ales (NZ)
If you would like to taste some of the top picks, The Local Taphouse in Sydney and Melbourne will be pouring some of the best festival beers tomorrow (5 June).
Those that voted in the Beer & Brewer People's Choice Best Festival Beer award went in the running to win five cases of beer from Dan Murphy's. We're thrilled to announce that the lucky winner is Stefan Wieser.