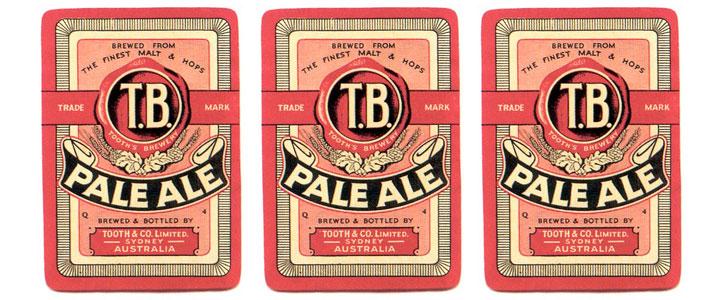 Written by Andy Young, editor The Shout
Carlton & United Breweries (CUB) has brewed a heritage beer under the famous Tooth's banner, relaunching Tooth's Pale Ale.
Records indicate that Tooth's Pale Ale was first produced in around 1850 until 1915 and was then produced as TB Pale Ale from 1918 until 1934. The new beer has been inspired by the original brew, but with a modern twist.
CUB brewer Scott Vincent said: "Making a beer in the exact style of an old style brew wouldn't work, but we believe that by taking cues from what the original would have been and giving it a modern tweak, will resonate with drinkers.
"It's a classic pale ale which is certainly an on trend beer style; gaining more interest and trial from drinkers."
The beer has been brewed using a mix of traditional and new world hops, which have produced a light and refreshing pale ale. Connecting with the heritage links of the Tooth family emigrating from Kent in England, the new brew is made with East Kent Golding hops sourced from the UK. The beer also features Pride of Ringwood hops, plus dry hopping with Galaxy and Centennial hops.
The aroma and taste are described as "sweet malt balanced with soft bitterness and a fruity dry finish".
Tooth's Pale Ale is 4.2 per cent ABV, with a 12 IBU bitterness rating and it will be available on tap in a limited number of venues across NSW over coming months.