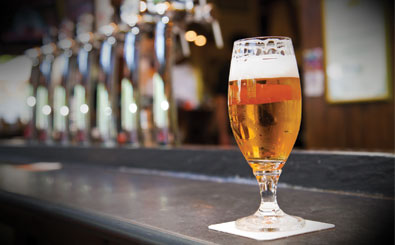 The acquisition of SABMiller by Anheuser-Bush InBev (AB InBev) has been agreed upon by both parties, meaning one in three beers brewed globally will be owned by the mega brewery.
The A$172 billion deal, the third biggest takeover in global corporate history, will bring together massive beer brands such as InBev's Beck's and Stella Artois, and SABMiller's Foster's and Peroni.
The two companies announced last night that a new Belgian company, Newco, will acquire SABMiller, with AB InBev then merging with Newco to become the world's largest brewer.
"Our combination with SABMiller is about creating the first truly global beer company and bringing more choices to beer drinkers in markets outside of the U.S," said AB InBev chief executive officer Carlos Brito.
"By pooling our resources, we would build one of the world's leading consumer products companies, benefiting from the experience, commitment and drive of our combined global talent base."
InBev will pay £44 per share in cash for SABMiller, which has agreed to sell its 58-per cent stake in US unit MillerCoors for US$12 billion to Molson Coors to help win regulatory approval. The companies will continue to address regulatory concerns in other markets as they arise.
"We are pleased to have reached this agreement with Molson Coors to divest SABMiller's U.S. assets. We will continue to proactively address any regulatory concerns regarding our combination with SABMiller in other relevant markets," said Brito.
SABMiller chairman Jan du Plessis highlighted the cash return for shareholders and long-term potential as why the Board of SABMiller recommended the takeover offer.
"SABMiller has an unmatched footprint in fast-growing developing markets, underpinned by our portfolio of iconic national and global brands. However, AB InBev's offer represents an attractive premium and cash return for our shareholders, and secures earlier delivery of our long-term value potential, which is why the Board of SABMiller has unanimously recommended AB InBev's offer," he said.
Locally the deal means that Carlton & United Breweries, which is owned by SABMiller, will become part of Newco. CUB is now expected to once again take responsibility for the sale and distribution of AB InBev beer brands Stella Artois, Beck's and most notably Corona Extra.
Euromonitor International senior alcoholic drinks analyst Jeremy Cunnington believes AB InBev's acquisition of SABMiller is the natural conclusion of more than a decade of consolidation within the brewing industry.
"The new company will account for 29 per cent of the global 198 billion litre beer market. This will make it more than three times bigger than its nearest rival, Heineken with nine per cent.
"The deal is a culmination of over a decade of mass consolidation, which has seen the top five's share of global beer volumes rise from 38 per cent in 2005 to 56 per cent following this deal in a category that has grown by 23 per cent over the same period," Cunnington said.
"With little geographic overlap between the two companies it is of little surprise the deal has been agreed and the deal will also have limited anti-trust issues."
According to Euromonitor, AB InBev will have the following presence regionally:
Number one player in Australasia with 40 per cent of the region's two billion litre volumes. Seven points ahead of Kirin.
Number three in Asia-Pacific with 12 per cent of the region's 71 billion litre volumes. Five and one percentage points respectively behind Chinese giants China Resources and Tsingtao.
Number two in Eastern Europe with 23 per cent of the region's 23 billion litre volumes. One percentage point behind Carlsberg.
Number one player in Latin America with 61 per cent of the region's 32 billion litre volumes. Forty-eight percentage points ahead of its nearest rival Heineken.
Number one in the Middle East and Africa with 41 per cent of the region's 13 billion litre volumes. Twenty-two percentage points ahead of its nearest rival Heineken.
Number one player in North America with 45 per cent of the region's 27 billion litre volumes. Seventeen percentage points ahead of its nearest rival*an enlarged Molson Coors.
Number two player in Western Europe with 13 per cent of the region's 28 billion litre market. Three percentage points behind Heineken who lead.
*Assumption being that the enlarged brewer will have to divest SABMiller's US operations to Molson Coors and interest in the SABMiller joint venture with China Resources.