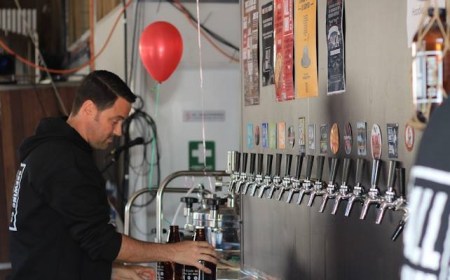 All Inn Brewing Co in Brisbane's north will unveil a complete rebrand and relaunch of a new range, as well as their first production run of cans, at a brewery party this Saturday November 18.
The 20 hectolitre brewery and bar in Banyo was built five years ago for only $80,000, with owner Harley Goodacre building most of the tanks himself and repurposing materials such as old milk vats for fermenters, making All Inn one of the more unusual and unique breweries in Australia.
Four beers will be packaged in cans: the Consequences Pale Lager, Clockwork Robust Porter, Mercenary American Pale Ale, and Leg Breaker American IPA.
Until now, All Inn beers had only been available in keg, but will now be making use of a mobile canning line for packaging – rather than installing an (expensive) canning line of their own.
While the exact design of the cans is under wraps until the launch party, Operations Manager and Brewer Lyndon Pasztor told Beer & Brewer that the new cans will sideline the 'pin-up model' style of branding to move towards "more inclusive branding to align with how we feel as a brewery and our ethos".
"Recently a number of local breweries have released cans with those sort of bright colours and we want to show originality, so our can line is going to be white and gold, and then we'll have the characters on the cans too," explained Pasztor, alluding to nearby breweries Newstead and Green Beacon with their brightly-coloured branding.
"We're hitting up a lot of bottleshops in Brisbane now – we've never been in a bottle shop before – so we'll be going into those and also we're looking at a few prospects up north in Townsville sort of area and definitely breaking in interstate when we can find the right distribution chain and logistics."
To mark the occasion they're also introducing a brand new Red IPA, brewed with almost all Lupulin hop powder (Mosaic, Simcoe and Citra) to hit 7.2% ABV and 70 IBU.
"We still kept a solid malt base as a red IPA would generally have, it's 70 IBUs so it's quite bitter but balanced really well… expect citrus, piney, and resinous aromas and flavours," adds Pasztor.
Doors open at 12 noon for the relaunch party this Saturday (18 November). Food truck Salt Pepper Cumin will be there to keep hunger at bay and live music will be served up by Daniel Mahler Trio featuring Kimberley Hanson, Cookie, Corn Liquor and Beddys Rays.