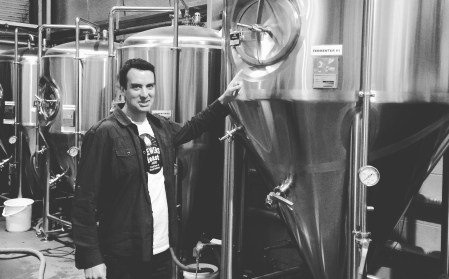 Brewers Feast festival organisers have collaborated with Prickly Moses to brew a hoppy pale ale using an experimental variety of hops, known only as ADHA-527.
The unique collaboration beer will join a lineup of 14 'Bintani Festival Beers' for the festival weekend, brewed especially for Brewers Feast using the company's range of malt, hops and yeast.
Described as a more subtle cousin of Azacca, festival organiser Tyson McGeoch told Beer & Brewer that it's the first known use of the hop variety in Australia.
"The hops were something that [Prickly Moses Head Brewer] Luke Scott had come across," explained Mcgeoch.
"He'd travelled over to the US in the last 12 months and had seen and heard about some of the things they were doing over there with the hop breeding program, and came across these hops which only have a number, ADHA-527, and don't have a name yet because they're just so new.
"The flavours they've got are sort of more fruity and spicy, so we thought they'd be something that would work quite well in a hoppy pale ale.
"It's going to be called the Prickly Feast and will sit at around five per cent ABV – we actually ran a competition on our Facebook page to name the beer and a lady called Wendy Brown came up with the name."
Around 20 kegs of the beer have been brewed especially for Brewers Feast, which will take place in the grounds of the Abbotsford Convent on Saturday 2 December and Sunday 3 December.
"It was just an awesome experience to go out there to the Prickly Moses brewery and be a part of the brewing of the beer that's going to be at the festival," added McGeoch.
"We were putting in the grains into the mash and had the fun job of cleaning it out as well at the end, which when you're only doing it once a year is fun and an experience – but if you did it every day you probably wouldn't enjoy it as much!"
In addition to the collaboration beer with Prickly Moses, McGeoch also revealed the 13 other unique festival beers that will be pouring on the day. They are:
Watts River Brewing: Espresso Stout (6.3%)
KAIJU! Beer: Tropical Session Ale (3.5%)
Hop Nation: Le Soleil Barrel Aged Sour Blonde (5%)
Stomping Ground Brewing Co: Peaches & Cream Gose (4.5%)
Bells Beach Brewing: Winkipop Wheat Hefeweizen (4.7%)
Kooinda Brewery: Passionator Kettle Sour (3.5%)
Tooborac Brewery: Lime Chili Session IPA (5%)
Holgate Brewhouse: X-Wing XPA
Moon Dog: Experimental Mosaic Hopped IPA (6.5%)
Henry St Brewhouse: Gobsmacker New England IPA (5.8%)
Forrest Brewing Company: Untamed Turkey Double IPA (7.5%)
Co Conspirators Brewing Company: The Hustler Mango Pineapple Milkshake IPA (6.3%)
Tickets are still available to purchase, but if you'd like to win a double pass to Brewers Feast, keep an eye on the Beer & Brewer Facebook page.