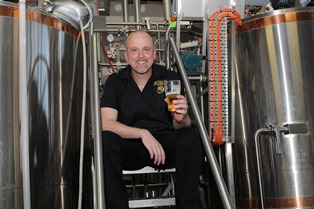 Neal Cameron from The Australia Hotel & Brewery
The Wild West Beer and BBQ Fest is just over a week away and tickets are selling fast. The event, hosted byThe Australian Hotel & Brewery in Rouse Hill on November 15, will bring together a huge range of local beers and delicious food.
The festival gives the public the perfect opportunity to meet brewers and reps from local brands to stay in touch with their latest creations. It also provides the ideal setting to discover a new favourite tipple with ales, lagers, ciders and stouts all available to purchase as takeaways.
The Australian Hotel and Brewery will be showcasing beverages from a variety of local breweries including Young Henrys, Lord Nelson, Sydney Brewery, Six String and of course, The Australian Brewery.
Neal Cameron, Australian Brewery's head brewer and festival organiser, says craft beer has taken the Australian beer market by storm and this is another chance for beer-lovers to discover more brews and further educate themselves.
"Western Sydney is a huge market for craft beer and we're excited to be holding the Beer and BBQ Fest in their back yard," Cameron explains. "With so many brands and brews on offer, punters are bound to discover a new favourite.
"Navigating the craft beer market can be tricky business with plenty of options out there. By getting these great beers in the one place we're hoping punters will be able to discover a few new favourites that they can fill the fridge with."
To keep the taste buds dancing, Beer and BBQ Fest will also appeal to the inner foodie. Each brewery will be nominating a beer to be matched to a particular dish which will be created by the talented chef at The Australian Hotel and Brewery.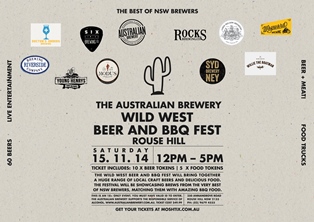 All ticket prices include 10 drink tokens and five food tokens and are available from Moshtix online, with prices starting from $49.99.
Bus transfers from near Central and Parramatta stations will also be on offer with a specified ticket choice and, for those that need them, additional tokens will be available on the day.
Tickets are availablehere, 1300 438 849 on your mobile and all Moshtix outlets.
Beer & Brewer has two free tickets to the Wild West Beer & BBQ Fest to give away. For a chance to win them, visit ourFacebook page and tell us who your favourite outlaw was and why!