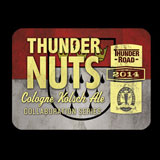 Colin Paige and Marcus Cox from Thunder Road Brewing Co have teamed up with award-winning brewer Will Kemper from Chuckanut Brewing in Washington State, USA to produce a Summer International Collaboration Series under the umbrella name Thunder Nuts.
The first two brews are ready to go – a Cologne Kolsch Ale, brewed using Australian hops, and an interesting-sounding rauchbier they're calling a Bamberg Smoked Lager. Two other brews are 'on their way', according to the brewery. They will be a Maibock, and a New World Golden Ale, and should be available in late February.
Kemper is a pioneer in the American craft brewing industry, and his brewery has picked up a slew of awards over the years, including National Small Brewpub/Brewer of the Year 2009 and National Small Brewery/ Brewer of the Year at the Great American Beer Festival in Denver, Colorado.
The only bad news: there's not a lot of these beers to go around, so if you want to get your hands on some, they'll be available for tasting and VIP Growler Club sales direct from Thunder Road in Brunswick, and at selected pubs and restaurants in Victoria.
For more details, check out the Thunder Road Brewing Co website.