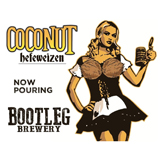 Never ones to shy away from a playful stab at established recipes, the crew at Bootleg Brewery in Margaret River, WA, have unleashed a bit of an oddity to market – a coconut hefeweizen.
Think of it as a beer that hails from Germany, but spent some time carousing with pirates in the Caribbean before landing in Australia. The guys tell us that it started life as a fairly standard German-styled wheat bear, but the addition of toasted coconut to the mix has given this new beer a life all of its own.
It's purely a seasonal offering from Bootleg, and as such it's only available in limited qualities. It's on tap at the brewery and at the Sail & Anchor in Fremantle right now, can be sourced from selected bottleshops and will be pouring at the South West Craft Beer Festival as well. For more info, head to the brewery or hit Bootleg up via the website.