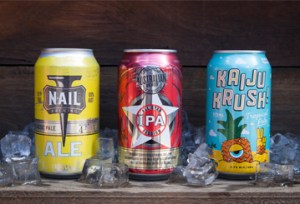 In exciting news for the local industry, three Australian craft brewers will be participating in a craft beer showcase and tour around China next month.
The Australian Brewery from Sydney, KAIJU! from Melbourne and Nail Brewing from Perth will be travelling with Austrade representatives from 1-12 March, taking in four major Chinese cities and business hubs: Guangzhou, Kunming and Shanghai, culminating at the Beijing Invitational Craft Beer Festival.
In attendance will be Marcello Colosimo, General Manager and founder of the Australian Brewery, Callum Reeves, Chief Boss at KAIJU! and John Stallwood, Head Brewer and owner at Nail.
In each city the brewers will be holding masterclasses with prospective importers, distributors and major retailers, as well as attending tastings and networking events organised by Austrade in each province.
In a domestic market largely locked up by big multinationals and with only a small percentage of taps available to independent craft brewers, Australian brewers are increasingly looking at exporting their beers overseas to drive volume.
The Australian Brewery is experienced in export to Asia, with their beers already available in Japan, Singapore, India and Hong Kong.
In November 2016, they sent their first container of beer to mainland China, and are hoping to expand distribution and further capitalise on this opportunity to enter the potentially lucrative Chinese market.
A large component of the trip will also involve market research – experiencing what other international brewers are doing in the space – especially at the Beijing International Craft Beer Festival, where the group will meet the local brewers and sample some Chinese craft beers.
"Sharing our beer with people and talking about it is my favourite part of this business and I'm looking forward to doing it with some other great Australian Brewers," said Marcello Colosimo.
"I'm sure we will get plenty of opportunity to enjoy some beers together as well!"