Aussie brewers Feral Brewing Company, Little Creatures and White Rabbit Brewery will each be releasing new bottled beers, while three beers from leading US craft brewers New Belgium Brewing will also be made available in Australia for the first time.
Feral Brewing Company
Feral Brewing Company's latest Brewpub Series release – a 7.5% Imperial Red IPA called Fantapants – will be available in select independent liquor stores and venues across Australia from early March.
However, Fantapants will first make its debut as part of Feral's Nationwide Tap Takeover, which will commandeer the taps of nine venues in six states, showcasing up to 18 of their IPA's including the new beer.
Stockists and dates for the wider release of Fantapants (available in 330ml glass bottles) will be announced on Feral's website in early March.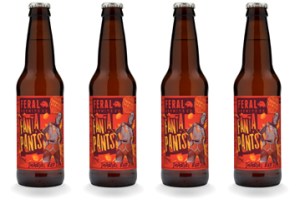 Little Creatures and White Rabbit
Little Creatures has released the VHA – Shade Chaser IPA, a refreshing summer IPA inspired by the famously hop-centric US West Coast IPA style.
Using US Citra hops, the 45 IBU, 6.5% brew is the second Single Batch VHA release to come from the brewers at Little Creatures.
"This brew has some big and punchy citrus notes, which has led to an unyielding, yet not excessive, bitterness," said Head Brewer at Little Creatures Fremantle Russ Gosling.
"An unyielding yet not excessive bitterness gives way to a deliciously dry finish, allowing those Citra hops to truly shine and quench summer thirst."
White Rabbit Brewery has continued with its imaginative brewing philosophy and has released a Tart Weisse beer named Teddywidder.
"We love exploring the depth and breadth of sour beers, I don't think any style can match them for complexity or refreshment," said Jeremy Halse, Head Brewer at White Rabbit.
"For Teddywidder we take our White Ale in the early stages of production and put it through a natural acidification process. Teddywidder's subtle flavours come with an unexpected zingy punch."
While Teddywidder has been available on tap since the White Rabbit Brewery and Barrel Hall opened just over a year ago, it becomes the second permanent beer to be bottled in 750ml wine-style bottles, following the success of the barrel aged Sour Red.
Both the Little Creatures VHA – Shade Chaser IPA and the White Rabbit Teddywidder will be available online via MocU. The Shade Chaser IPA will also be available at Little Creatures' breweries in Fremantle and Geelong – the latter location also the home of the White Rabbit Brewery, where the Teddywidder will be available.
New Belgium Brewing
Finally, drinks distributor Square Keg is expanding the range of products it distributes from one of the leading US craft brewers, New Belgium Brewing.
Amongst the new products is the brewer's runaway success New Belgium Citradelic IPA – a tangerine IPA in both bottles and cans, plus the recently launched Voodoo Ranger IPA which is also available in bottles and cans. New Belgium's flagship amber ale brand, Fat Tire, is also now available in cans in addition to the previously available bottles.
Since its launch in January 2016, Citradelic Tangerine IPA has taken the US craft beer scene by storm, with it being the biggest craft beer brand launch of the year. It has rapidly grown to become New Belgium's second-best selling brand.
See below for a list of the locations where the newly released New Belgium beers are currently available.
Brisbane • Craft – Red Hill • Archive Beer Boutique – West End • Vine Liquor – Cleveland
Gold Coast • Pac Fair Wine + Beer – Broadbeach • Lester and Earl –Palm Beach
Northern Rivers • Sun Bistro Bottleshop – Byron Bay • Northern Hotel Bottle shop – Byron Bay
Melbourne • McCoppins – Fitzroy, Hawthorn, Abbotsford, Clifton Hill • Carwyn Cellars – Thornbury • Slow Beer – Richmond, Fitzroy
Sydney • Camperdown Cellars – All stores • Bucket Boys – Marrickville • Oak Barrel – Sydney
Newcastle • Warners on the Bay