White Bay's new IPA & Imperial Stout – Sydney's White Bay Beer Co continue their impressive run of limited releases with two new cans out now. Head brewer Dennis de Boer told Beer & Brewer the Dolce Noir Imperial Stout (9.0%) is "brewed with a medley of our favourite specialty malts and lactose. We brewed Dolce because we honestly didn't believe Sunny (Pale Ale) was the right beer to drink when we wore penguin suits, top hats and monocles. It was fermented cool for many moons to create a decadent yet deceivingly smooth base beer. We then conditioned Dolce for many moons more on mounds and mounds of whole roasted hazelnuts and New Guinean vanilla beans. The finished beer reminds us of a Bueno bar – restrained opulence with love handles that's equally suited for enjoyment on a private yacht or at a B&S Ball". The Wherever I Rove IPA (6.0%) is "brewed with Australian and Kiwi base malts and oats, and hopped with Mosaic in its many forms (Incognito, T-45 and Cryo) along with luscious Lemondrop hops and fermented with our expressive house yeast strain. We fermented this beer to a much drier finish than some of our previous IPA releases with session-ability in mind as we found the higher levels of residual sugar in some of our previous releases to be a distraction to the other flavours we were trying to coax out of those beers. The drier finish of this beer keeps the sense of satiation at bay and the flavour-neutral malt base of Wherever I Rove allows the hops to shine through with a medley of pineapple, passionfruit and limoncello aromas and flavours".
Two Birds perfect alcoholic soda – After giving it a crack twice in keg-only releases, Two Birds say they've now perfected their Watermelon Chirpy (4.0%) recipe as they release it into the wild in cans. In our Spring edition, out in early September, our tasting review panel had this to say about Chirpy: "It's nose weaves through Starburst watermelon chews and ripe fruit before settling on the latter". For the full review, and 95 more, head here to subscribe. Chirpy brings together just a few clean ingredients – malt, water and an infusion of natural fruit flavours – all without added sugar, low in calories and only one standard drink per can. "Hard seltzer is such a new category to Australian drinkers, I think there is a lot of confusion around what a seltzer actually is," Two Birds co-owner Danielle Allen said. "Brewed alcoholic soda is the perfect descriptor for Chirpy. People are going to call it a seltzer, soda, spiked sparkling (but) at the end of the day, we just want people to know this new kid on the block as Chirpy."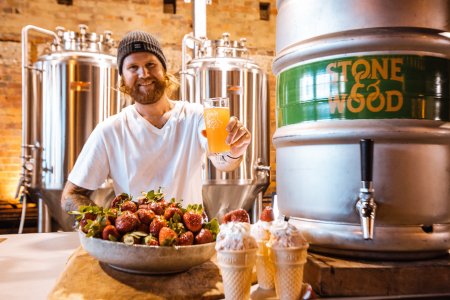 Stone & Wood brew beer for fundraiser – In response to the Ekka's cancellation this year, Stone & Wood's Brisbane brewery has joined the tradition of fundraising for The Prince Charles Hospital Foundation by brewing a strawberries and cream beer inspired by the Ekka's iconic strawberry sundae. In partnership with The Common Good, a fundraising initiative of The Prince Charles Hospital that generates funds for critical health research, Stone & Wood will release its Strawberry Sundae Kisses – a strawberries and cream sour – at its Fortitude Valley brewery on Wednesday 12 August, the original date for the Brisbane Show Day. "When the physical Ekka show was cancelled, we kept thinking of the delicious strawberry sundaes and all the money they raise for the Foundation," Brisbane head brewer Mick Barnes said. "Then we said to ourselves, 'well, we can't exactly make ice-cream – but what about beer?'"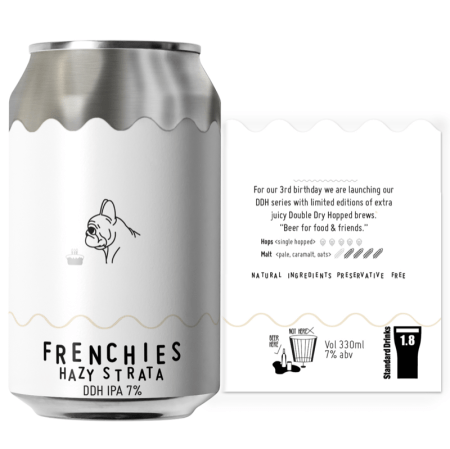 Frenchies to release four birthday beers – On Monday 10 August, and to coincide with their third birthday celebrations, Sydney's Frenchies Bistro & Brewery are launching a new series of beers. After the success of last year's experimental double dry hopped beers (DDH XPA, DDH Fresh Harvest IPA and DDH IIPA) they will release a new DDH beer a month, mostly IPAs, in very limited volumes. The series kicks off with a bang too as they unleash four in one go: Idaho 7 DDH TIPA (10.5%) – West Coast Imperial-style, displaying citrusy, resinous and tropical aromas; Azacca DDH IPA (7.0%) – the little sister of Idaho 7 TIPA; Coconut Sabro Black DDH IPA (7.0%) – tropical and coconut aromas marry perfectly with the chocolate flavour of the malt. This sits between a chocolate pina colada and a Malibu cola; and Hazy Strata DDH IPA (7.0%) – where passionfruit meets pot. It brings layered notes of tropical fruit including: mango, passion fruit, melon, fresh berry/strawberry, and some grapefruit. Along with this comes a dank herbal note of drifting cannabis.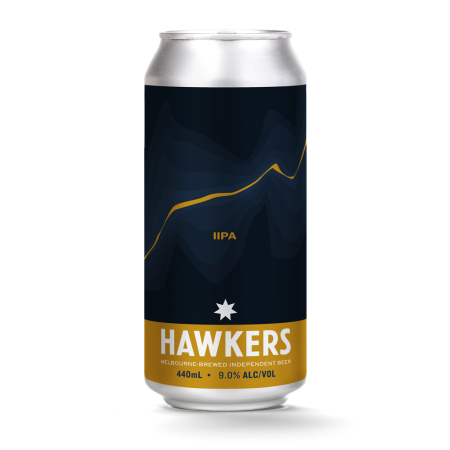 Hawkers bring back the IIPA – With a beautifully pared-back, new-look can, Melbourne's Hawkers Beer have re-released their IIPA (9.0%) last seen in 2018. It always was a big beer in terms of booze, but the new 440ml can (previously 375ml) takes it up a notch. Juicy hops (Mosaic, Citra) are king in this West Coast-style Imperial that boasts a lovely and rich malt body and its piney dankness just adds that perfect finishing touch. Founder Mazen Hajjar said the 440ml can would be seen more and more in their limited releases, with two more new drops coming next week. "It's the return of one of our classics. We love this beer. We love to drink it. It's the same great recipe and it will continue to be released again and again." Hajjar, who became an Australian citizen in January, is Lebanese and he said the situation in Beirut was terribly sad to see. "My son got a few cuts from the blast. Nothing too serious but he is very traumatised. My parents, my ex-wife, the windows of their homes were shattered. It is a tragic thing that has happened."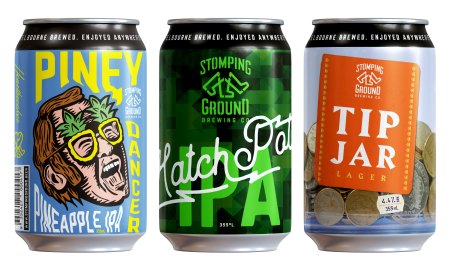 Stomping Ground's new can triumvirate – The stomping new can releases keep coming for Melbourne's Stomping Ground as they get busy in lockdown and naturally pivot away from keg releases. The Hatch Pot IPA (7.2%) is a classic example, as a taphouse favourite hatches out in cans for the first time. It's their juicy take on a classic American IPA as all-American north west hops (Cascade, Simcoe, Citra, Centennial) give this big beer plenty of boldness. The Tiny Piney Pale Ale (3.8%) is the easy drinking, little sibling to their popular Piney Dancer IPA featuring real pineapple juice to complement the hop line-up (El Dorado, Equanot, Citra). And last, but certainly not least, is their new world Tip Jar Lager (4.4%), where the charitable nature of this brewery continues as all profits will go to Tip Jar – the Australian Hospitality Relief Fund. Learn more at: tipjarfund.org. Hats off to Steve, Guy, Justin and the whole Stompingly good team!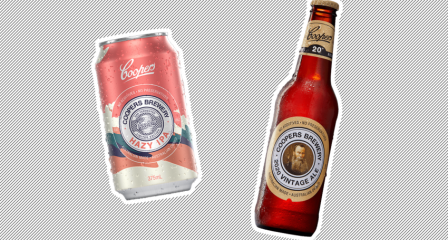 Coopers release the old and the new – Australia's largest family-owned brewery is looking to the past and the future with the announcement of two new beers in the past week – the 2020 Vintage Ale and a new Hazy IPA. The 20th Vintage Ale, released last week, pays tribute to Coopers' 168-year brewing heritage, and in particular its former Leabrook brewery in Adelaide. The brewery has then followed that up this week with the launch of its Hazy to, it said, help stay competitive in the craft beer market. Coopers managing director and chief brewer Tim Cooper described the Hazy IPA as a hoppy, easy to drink beer with tangerine, orange, citrus and exotic fruit flavours and aromas, as a result of the liberal use of Ahtanum and Strata hops. "It's a softer, easy-drinking beer that fits comfortably within the New England IPA style, as opposed to more aggressive West Coast IPAs," he said. A special barley variety named after the original Coopers Brewery site brings a historic touch to the 20th year celebration of Vintage Ale. The Coopers 2020 Vintage Ale features Leabrook barley, named after the former site of the sixth-generation Australian family-owned brewery.
Contact Beer & Brewer by clicking here to share your latest releases.