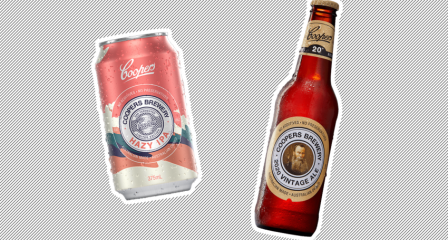 Australia's largest family-owned brewery is looking to the past and the future with the announcement of two new beers in the past week – the 2020 Vintage Ale and a new Hazy IPA.
The 20th Vintage Ale, released last week, pays tribute to Coopers' 168-year brewing heritage, and in particular its former Leabrook brewery in Adelaide. The brewery has then followed that up this week with the launch of its Hazy to, it said, help stay competitive in the craft beer market.
Coopers managing director and chief brewer Tim Cooper described the Coopers Hazy IPA as a hoppy, easy to drink beer with tangerine, orange, citrus and exotic fruit flavours and aromas, as a result of the liberal use of Ahtanum and Strata hops.
"It's a softer, easy-drinking beer that fits comfortably within the New England IPA style, as opposed to more aggressive West Coast IPAs," he said.
"Hazy beers are attracting considerable attention internationally, with their distinct appearance in a glass making for interesting conversations."
Coopers Hazy IPA has an ABV of 6.2% and is set to hit Australian shelves and taps on August 17.
A special barley variety named after the original Coopers Brewery site brings a historic touch to the 20th year celebration of Vintage Ale.
The Coopers 2020 Vintage Ale features Leabrook barley, named after the former site of the sixth-generation Australian family-owned brewery.
Coopers was located at Leabrook in the eastern suburbs of Adelaide from 1881 until 2001 when it moved to its current and expanded site at Regency Park.
The Leabrook barley variety, grown on the eastern slopes of the Adelaide Hills, has been crafted by Coopers maltster Doug Stewart into pale malt, to which crystal and wheat malt is added to create an authentic Vintage Ale with a special twist.
The new Leabrook barley was the last variety released by the University of Adelaide under a barley development program long supported by Coopers. It was first malted by Coopers in 2018 and has been used to make a number of test batches of beer since.
Cooper said the new variety provided the brewery with an opportunity to "create something special" to mark the 20th edition of Vintage Ale.
"As well as being a tip of the hat to our original site, it's also a tribute to the long association we enjoyed with the University of Adelaide and its barley program," he said.
"While there is a strong historic theme to this vintage, we've also embraced some new world hops in its creation and our expert brewing team has benefited from our state-of-the-art malting plant.
"The result is a finely balanced but robust brew with a delightful copper hue. The 2020 Vintage has a full malt flavour, combined with hints of nut and maple. This can be enjoyed straight away or stored longer in the cellar for a special occasion."
The 2020 Vintage Ale undergoes secondary fermentation and natural conditioning and retains an alcohol level of 7.5% ABV.
Contact Beer & Brewer by clicking here to share your news and views.