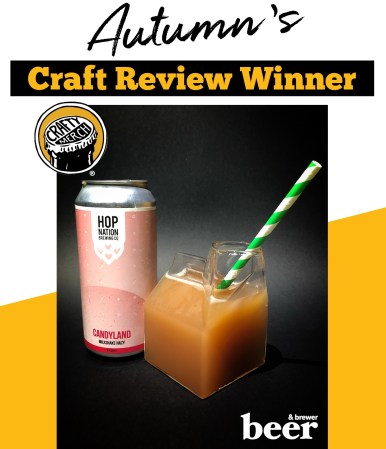 Congratulations to WA's Brian Castledine – the winner of our Autumn magazine's craft beer review competition for his take (and great snap) on Hop Nation's Candyland Milkshake Hazy IPA.
In each issue of Beer & Brewer we ask readers to send in their own reviews of 120 words or less on a new or recent release. Each edition's winner takes home the amazing Craft Beer Tasting Set four pack from Rastal – supplied to us by the legends at CraftyMerch – and has their review published in the magazine. You can find Brian's winning entry on page 81 of our Autumn magazine and check out his Instagram page @craft_beer_photosphere for more of his great reviews and images.
To enter the competition in our Winter issue email your review (and pictures if you choose) to info@beerandbrewer.com. The prize includes your review published in the Winter magazine and 1 x Teku 330ml, 1 x Craft Master One 380ml, 1 x Craft Master Two 473ml and 1 x Craft Master Bowl 373ml Rastal glassware.
The deadline for submissions is April 15th 2021. Previous winners of the competion can't win again.
Brian's winning entry
Hop Nation
Candyland Milkshake Hazy IPA
ABV: 8%
Style: Milkshake IPA
Big raspberry aromas precede a sweet, creamy raspberry run down, before a vanilla and lactose carriage delivers a cherry fairy floss-like finish to the delightful ending. Memories of perfectly presented lolly shops of old, both here and in New Zealand when I was a grasshopper, were recalled, but rest assured not enough to make me use a straw! And for that I'm glad, because during much of this Candyland experience I couldn't sense the substantial ABV before I felt all warm and fuzzy by the last drop. Smooth as!
Glass match: Rastal Teku
Food match: Raspberry cheesecake