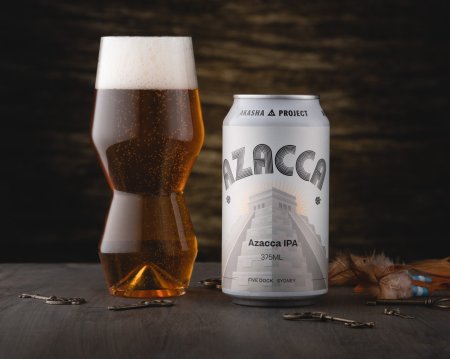 AKASHA BREWING AZACCA IPA (6.8%, 375ML)
Azacca hops have markedly gained in popularity in both the States and in Australia in recent years with its late addition and dry hopped benefits being showcased broadly by breweries. USDA Hop Reports reflect that and show that since it was released to market in 2013 it has gone from 79 acres of production in 2014 to 722 acres last year.
And Akasha's recent flaunting of it via their limited release series Akasha Project will do nothing to diminish its aptitude for single hop IPAs.
Pouring burnished gold with some hop haze and a dense, fluffy meringue-like head, a flurry of acute tropical aromas abound, punctuated with candied orange and ripe mango. The hops continue in the driver's seat for the ride over the tongue with pine and spice thumbing a lift as gentle malt sweetness and a dry, refreshing finish make for a beautifully weighted and effortlessly drinkable IPA.
The Azacca continues the Sydney brewery's love affair with releasing IPAs that singularly showcase some of their favourite hops. The most well known of these – their Mosaic – was even elevated to their core range back in 2019 after previously gaining widespread favour in limited release format. Other recent single hop IPA releases from Akasha have included last year's Double Hazy Mosaic and Eclipse and this year's Talus.