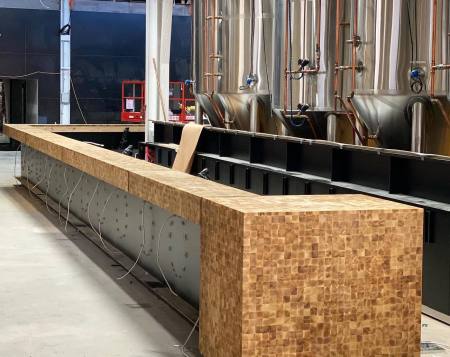 Deeds Brewing say they're a far better brewery because of the long wait to secure approval for their taproom and now consider the timing couldn't be better as they prepare to finally open its doors in a few months.
After a four year struggle Deeds got the all clear to have a taproom at their Glen Iris brewery in June last year and it's now in the final stages of its build ahead of a planned grand opening in either late May or early June.
Speaking with Beer & Brewer, Deeds co-founder Pat Alé said the protracted process had brought a "roller coaster of emotional toil" on top of the "wasted time and considerable money".
"But all things considered, and the optimistic view on it, which I like to take, is had we opened the brewery and taproom at the same time back in 2017 it would have been a really hard thing to manage. And in a way it allowed us to focus on and refine the brewery operations and I think we've become pretty good at that.
"Not having our focus split across two complicated businesses has made us a better brewery than we otherwise would have been. It's allowed us the time to grow in the market and get a good brand following behind us."
And how they have. Just in the last 12 to 18 months Deeds have exploded on the wider Australian craft beer landscape on the back of an aggressive production schedule that has seen them release on average one limited edition beer a week. They also placed fifth on the ladder of top Australian craft breweries in last year's Beer Cartel survey – leaping 114 places on the previous year's results – while their head brewer Justin Corbitt took out Beer & Brewer's Brewer of the Year award for 2020 – joining Balter's Scott Hargrave, Van Dieman's Will Tatchell and Will Irving, formerly of Feral, as previous winners. 
"So the timing is right," Pat said. "I'm super proud of the team and what we've been able to achieve since we started brewing here. We've only been brewing on our own equipment since February 2019 – so it's only been two years and we've been able to achieve what we've been able to achieve."
Deeds' long road to get to the present began back in July 2016 when Pat and fellow co-founder Dave Milstein submitted an application to the City of Stonnington Council for both a brewery and taproom. When that was rejected, and subsequently by the Victorian Civil and Administrative Tribunal (VCAT) as well, Deeds put their taproom dreams on the backburner and re-applied to council in September 2017 for just the brewery.
"Even though we weren't happy about it we dropped the taproom off mainly for strategic reasons. We needed to get in and start brewing and making some money."
After doing just that Deeds reapplied for the taproom in November 2019, albeit one that had reduced its capacity from 350 to 150. That decision proved decisive as did the fact COVID-19 had heavily impacted the hospitality industry by the time the council came to rule on the application in April 2020.
"Dropping down our numbers meant we avoided the need for a dedicated carpark. We are literally right next door to a train station but carparking, as it often is for applications like this, was such a hot topic," Pat said while adding former councillor Glen Atwell had referenced COVID-19's negative impacts in his argument about why council should support the taproom application – the first of its kind in the area.
"And that was a pretty compelling argument in the end. It was really a tough time for everyone – especially in hospitality. And I think the fact we were trying to do something positive for the community, that hadn't been done before, was looked at more favourably than it had been in the past."
We're excited with what we've got planned for the future and we're only going to push ourselves even more."
THE GOOD DEEDS OF THE LOCALS
Whilst those two aspects were key drivers of seeing Deeds get their taproom plans over the line Pat said they were equally matched by the support of the local community.
Close to 1,750 locals signed a petition that Deeds used in the successful taproom application while a large group even showed up to a meeting with council.
"Whilst they couldn't talk at the meeting, what it did was show council that there was real, feet on the ground support for having something like we wanted to do in this community.
"And in hindsight we should have engaged the local community a lot more than we did with the original application. The biggest difference between round one and round three was we did an active campaign to engage with the local community and I think that support can't be overlooked."
Those locals will be well catered for too. Coupled with a total of 22 unique Deeds beers across the taproom's total of 28 taps, and a full commercial kitchen, there will also be a long table-style function space that local groups can book for free when it's not being used for the likes of private parties.
"We want to grow that feeling of it being a local hub," Pat said. "The area has a lot of young families, but people of all ages as well. We want to cater to everyone.
The taproom is first and foremost a reflection of the brand. Now that the brand is developed and it has a sense and purpose behind it – which it didn't have back in 2016 – we've been able to incorporate its look and feel in to the taproom. It just works really well."
Deeds Brewing are located at 4 Paran Place, Glen Iris, VIC