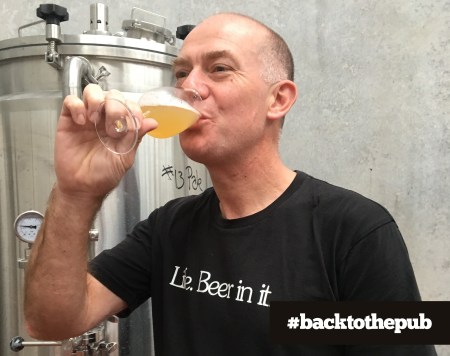 TWØBAYS opened its doors 18 months ago and it was a roller-coaster right up to March 2020 – then everything went off the tracks! No business could have prepared for the last few months," TWØBAYS Brewing Co's founder Richard Jeffares.
We sat down with the TWØBAYS Brewing Co's founder Richard Jeffares to find out how this period has been for one of Australia's newest breweries and its only gluten free one.
Richard also joins our #backtothepub series where Beer & Brewer chats with Aussie beer lovers about how much they've missed tap beer at their local. It's to raise awareness of the importance tap beer plays in a brewery's livelihood, and the flow-on effect that has across the entire hospitality industry.
The #backtothepub series will continue every week until every brewpub, taphouse and beer bar is fully open across Australia.
Q&A with Richard Jeffares:
You are a relatively new brewery, so have no doubt been through many ups and downs over that time, but did anything prepare you for what has unravelled over the last few months?
TWØBAYS opened its doors 18 months ago and it was a roller-coaster right up to March 2020 – then everything went off the tracks! No business could have prepared for the last few months. But I am pleased with how TWØBAYS has stood up so far. To see what many businesses have had to go through is heart-wrenching. We're an agile business in start-up mode and we had a strong e-commerce platform that was already functioning well. Our distribution network was growing fast and it remained essential for liquor outlets to cater for their gluten free customers. So, although our retail arm got hit and we slowed brewing down, we were still getting beer out there. The Taproom was central to the whole dream of setting this up, so like all hospitality owners, we were devastated to have to shut the doors. But we're making plans to re-open as soon as it is safe.
What has been the most challenging aspect from TWØBAYS' perspective since the shutdown hit?
Watching hospitality partners suffer, having to cut our staff hours, and the headaches of where our business fits in with government legislation and support – particular as a high growth new business. Although, we have had great support from the banks, our landlord and even the ATO (who would have thought!). Trying to keep the team focused on the customers that are open in these uncertain times is also a challenge. But they have been great at brushing off the uncertainty and disappointment of COVID-19 and really trying to help our customers and supply partners sell beer.
Why is it important for people to support local breweries, brewpubs, taphouses and bars at this time?
For starters, it's best for people to stay close to home during these times to continue preventing the spread. If everyone supports local, we can help to keep local alive together. Local businesses employ local people. We have 12 people on JobKeeper (nine are locals) and we are only a small business! It's been an incredibly difficult time for businesses right across Australia – and we're bracing ourselves for more challenges during the recovery period. But we need to keep local employment and supply chains in business.
With Victorian venues set to re-open come June 1, is there a particular one you can't wait to get back to?
Being Coeliac, I have to be very careful where I eat and drink! To be honest, I am just looking forward to sharing a beer with friends and family again – whichever local venue that is in (as long as it stocks TWØBAYS!) – that's why I started this business! We have some fantastic venues on the Mornington Peninsula – even in the Dromana Habitat (Industrial Estate) – so I'll try and share the love (and my dollars) with our neighbours to support local!
And what will you be drinking when you get there?
We've just re-released our very first seasonal beer – Ollie's Hoppy Brown Ale. It's a beautiful Autumnal/Winter beer, so I'll be catching up with friends over a few of those!
On a broader scale, what has been the market's response to TWØBAYS' range of gluten free craft beers since you began and what developments do you see the company making in the future?
We're delighted with the first 18 months on the whole, but there are still a lot of challenges ahead and a lot of work to be done. When I started this business, the dream was to see a gluten free beer in every bottle shop and licensed venue across Australia – regardless of who brewed it. The general response to our beer has been great, both inside and outside of gluten free communities – but there's still a long way to go to realise the dream. We just want to keep making the best beers we can and continue to explore new styles and flavours. We learn something new about these gluten free malts every day – and we're breaking uncharted territory with only a handful of breweries across the globe, so there is plenty to do!
To get in touch with Beer & Brewer about the #backtothepub series email us here.