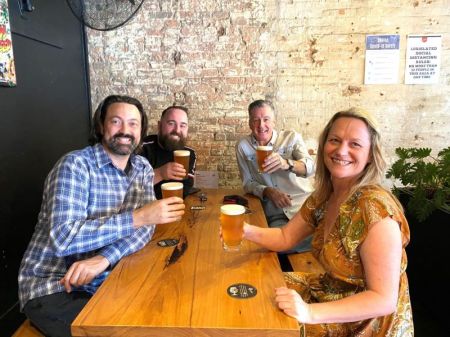 For one of Brisbane's best beer bars, the feeling of re-opening again after months in COVID-19 lockdown was fraught with stress and worry.
But any fears about survival and complying with Queensland government guidelines all turned to relief for Brewski when the Caxton St venue welcomed its first patrons again on Saturday.
"It felt bloomin' good to pour that first pint," owner Matt Emmerson said.
"The reaction has been fantastic. The regulars have been smiling like Cheshire cats. It makes us very happy."
Brewski are part of the first wave of venues who have chosen to re-open in Australia under strict guidelines set down by their respective state governments.
They are thankful they can, albeit to so few customers. When the lockdown hit they questioned whether they would ever open their doors again.
"I think I've aged five years in the last two months," Emmerson said.
"At first it was absolute devastation and fear. We had to let a lot of amazing staff go and, like a lot of people, we didn't know if it was the end for us. Luckily we've got a great industry who have all been supporting each other through this. We've had amazing customers who organised prepaid bar tabs, grabbed takeaway food every week and supported our bottle shop. Our landlord has been very supportive as well. We've used the time to pivot aspects of our business into takeaway, delivery and an online bottle shop.
"So yeah, it's been extremely challenging to say the least but we'll come out the other side with skills and revenue streams we didn't have before."
Currently, Brewski are open daily from 12pm to 9pm for food and beers and are taking bookings for groups of 10 in two hour slots.
Brewski have brought their A-game to their re-opening tap selection too, with a great range of local and international double dry hopped pales, IPAs, pastry stouts, world class sours and a cheeky Shiraz barrel-aged barley wine.
"Short term, we just want to see our punters venture back out with a few friends and laugh over a beer or three. It's going to take a while to get the business back to where it was. We hope launching the online store will help fill the gap while we're still restricted on our capacity."
Contact Beer & Brewer by clicking here to share your news and views.