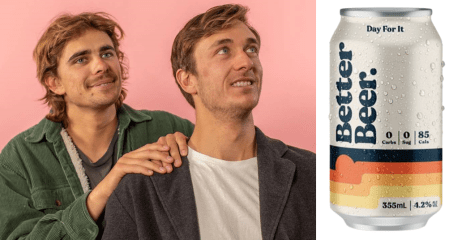 Australian social media stars The Inspired Unemployed and the Torquay Beverage Company will in October launch the Better Beer Company, which has already secured nationwide distribution in over 1,500 stores.
In an ASX statement on July 26, Mighty Craft, that is the majority owner of the Torquay Beverage Company, said the new company will be 60 per cent owned by Torquay and the rest by Matt Ford and Jack Steele (pictured in that order above) – two Australians who operate as The Inspired Unemployed and have over 2.5 million followers across multiple social media platforms.
Better Beer will launch with just one release of the same name, which will have zero carbohydrates, no sugar and 85 calories, while details of the partnership include The Inspired Unemployed being accountable for ongoing promotions.
Mighty Craft said in the statement that the Torquay Beverage Company was raising $1.4 million, via a rights issue, to support the launch of the brand. The money will also go towards funding ese – Torquay's new tequila-based hard seltzer (also set to launch in October) and a new cola flavour for their existing Nosh hard seltzer brand. Nosh Cola has already been released.
As part of the capital raise, Mighty Craft will contribute $510,000 in cash and convert $740,000 in debt into equity in Torquay – which will take Mighty Craft's stake in the company from 51 per cent to 61 per cent. They will also appoint one additional director to the Torquay board. Remaining shareholders will take up the remaining $150,000.
Mighty Craft CEO Mark Haysman said: "Health, wellbeing and moderation are key macro trends culminating in 'better for you' drinks globally, as is partnering with modern day influencers. Creating a new business with The Inspired Unemployed guys is both exciting and powerful given their reach. This is the first national launch for Mighty Craft in the beer category which reflects the potential with this partnership".
Nick Cogger, founder and CEO of Torquay Beverage Company, said: "The Inspired Unemployed guys are also excited to partner with us and Mighty Craft and together we can't wait to bring the easy drinking, Better Beer to consumers, one of only two local zero carb, full-strength beer products on the market".