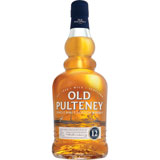 Old Pulteney 12yo Single Malt
40% ABV, 750ml bottle
The younger sibling of the 21yo, which was named World Whisky of the Year by Jim Murray in 2012, Old Pulteney 12yo hails from the most northern distillery on the Scottish mainland. First nose reveals floral and pine notes, with a big burst of sea air and salt. Taste lives up the salty promise of the nose, with a vibrant and clean flavour that gives way to a softer, still salty finish that lingers like the memory of a family holiday by the sea. Lovely.