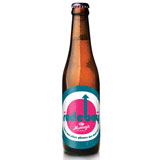 Fans of New South Wales brewing outfit Murray's will no doubt be delighted to learn that one of the brewery's more popular draught-only releases is now available in bottles – the Rudeboy Pilsner, Murray's interpretation of a Pilsner which they tell us they've made "vaguely in the Czech style, but with a New World Twist".
Murray's tell us that the decision to release the Rudeboy in bottles was as much to do with demand from consumers as it was made feasible by the brewery expansion.
"It has been a real challenge to reproduce the popular draught beer in the bottled format but as a lover of traditional Czech Pilsner I'm really happy with how the bottled Rudeboy Pilsner presents," said Murray's head brewer, Shawn Sherlock.
The Rudeboy is available in bottles direct from Murray's Brewery, and will be rolled out to craft beer retailers around the country soon. For more information, check out the Murray's website.