Celebratingits centenary isThe Australian Heritage Hotel
Next month marks the 100th anniversary of iconic Sydney pub The Australian HeritageHotel in The Rocks. To celebrate, the grand old lady will host a neighbourhood party on 14 November, release a specially-brewed craft beer and hold an inaugural Aussie Art Prize.
Celebrations will start this weekend (17-20 Oct) during the 10th annual Australian Beer Festival when the pub will brew and launch a special limited-edition Rocks Lager to mark its centenary. Featuring 28 Australian craft brewers, patrons at the festival will be able to attend Meet the Brewer and Blind Tasting Sessions. Brewers in attendance have been encouraged to brew a one-off heritage beer in honour of the 100-year milestone.
The hotel is also holding its first art competition, The Aussie Art Prize, with students and artists asked to submit original works to the theme of Icons of the Rocks. The winner will be announced at the neighbourhood party, taking home a Julian Ashton Holiday Course and $1,000 cash.
General manager of The Australian Heritage Hotel, Luke Davies, says: "It is a very proud time for us to be able to say that we have been serving the good folk of Sydney for 100 years. With so many new bars and pubs popping up all over the place, it's unusual for a venue to last the test of time these days. So we have some big celebrations planned to mark this milestone and would love any old staff, patrons and Sydney-siders to join in and celebrate this special occasion with us."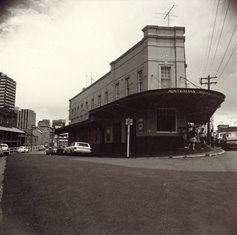 A 1970s photo of the hotel
The hotel is calling for all patrons and employees old and new to share their memories and pictures of good times throughits Facebook page. Any old pictures and artifacts are also welcomed and will be displayed in the venue throughout the month of November.
The neighbourhood party on Friday, 14 November is open to everyone and will feature live entertainment, beer and cake.
Dates
Australian Beer Festival: 17-20 October, ticketshere.
Neighbourhood party: 3pm Friday, 14 November, entry free
The Aussie Art Prize: Entries close Friday, 24 October and winner announced 14 November