Riverside Brewing celebrate the win
The 10th annual Australian Beer Festival, held last weekend (17-19 Oct), sawRiverside Brewing win the coveted Geoffrey Scharer Best Overall Beer Award for its Riverside '77' IPA.
More than12,000 people attended the festival, which showcased 28 Australian craft brewers. Patrons were able to attend Meet the Brewer and Blind Tasting Sessions, as well as sample beers and ciders from across Australia.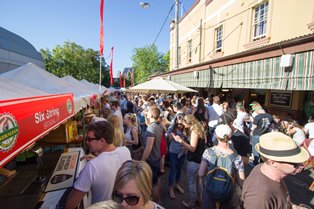 The festival in full swing
"We were truly proud and honoured to win the Geoff Scharer Trophy at the Australian Beer Festival over the weekend for our '77' India Pale Ale. It makes all the hard work and dedication that goes in to producing our beers worthwhile," Riverside's head brewer Dave Padden told Beer & Brewer.
The festival's other award winners included;Hawthorn Pilsner for Best Pilsner,Balmain Bock for Best Dark beer, Willie Smiths Apple Cider for Best Cider,Scharer's Lager for Best Lager,Wayward Sourpuss Raspberry Berliner Weissefor Best Single Batch and Australian Beer Company'snewly-released Yenda Pale Alefor Best Light Ale. A particular highlight was the stunningIllawarra Pumpkin Ale, which won in the Best Speciality beer category.
The amateur brewer section of the awards saw Home Brewer Championship Winner first prize won by Stephen Wharton for his IPA, while second prize went to Jake Blaschka for his black IPA.