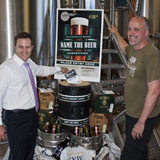 The Australian Brewery, based in the Hills District of Sydney, has launched a competition to allow ten lucky beer enthusiasts the chance to be involved in the crafting, and naming, of a brand new beer.
The "Hills inspired" brew will be put together to reflect the spirit of the local community – something that The Australian Brewery holds in high regard. The brewery is well known in the local area for its community and charitable links, through sporting sponsorships and its role in the Hills Charitable Trust Fund, which has donated more than $200,000 to the local community in the past 12 months.
"The 'Name the Beer' competition gives the local community the opportunity to participate in this initiative and have their name printed on the finished can," Neal Cameron said.
There are two ways to enter – either head to the Australian Brewery website or check out their Facebook page, and simply let the team know what you think the beer should be called.