It's been busy days at Mountain Goat, with the team set to release thirteen beers leading into Good Beer Week in May.
Two beers from their barrel program are now available in very limited numbers – a Plum Sour, the result of an unexpected delivery of Tasmanian plums, a coinciding kettle sour and a year in Lark whisky barrels, and their acclaimed Barley Wine. The 2017 recipe follows in the footsteps of 2015 and 2016's award winning batches but this year saw the beer aged in Starward whisky barrels, resulting in a slightly sweeter yet still powerful beer.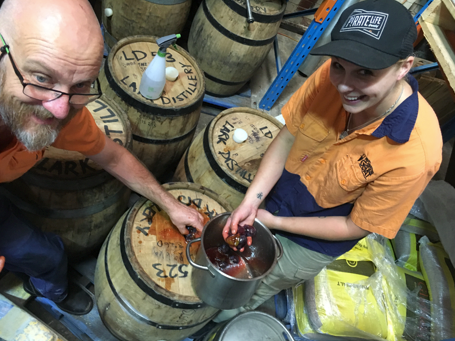 Just hitting the market is the latest Rare Breed, Attack of the Killer Hops IPA. A celebration of hops, including using Calypso for the first time, this IPA is full of pine, citrus and big hops bitterness. You'll also find the last of their collaboration with Crowbar for Brewvegas, the Barn Burner Black Saison, and a keg-only Trip Trap Triple IPA.
Soon on bars and shelves you'll find a Coffee IPA, a collaboration with Maker Fine Coffee and Mork Chocolate, a Coco Porter, the Barrel Breed Imperial Stout 2017 release, a fresh batch of last year's acclaimed Pulped Fiction Blood Orange IPA, a White IPA, a revisit to one of the most loved Rare Breeds, the Bigfoot Stout, a Red IPA to raise money for Sacred Heart Mission and, of course, their GABS beer.
It's not just the brewers who have been busy – the Richmond brewery's Goat Bar is now open on Sundays from midday to 6pm. Come by for the freshest beers on tap and Goat's famous pizzas.
The pace isn't set to slow down either, with Mountain Goat celebrating their 20th birthday in October. A special Birthday Rare Breed beer and celebrations will be held across the country – follow Mountain Goat on Facebook or join the Goat Army via their website to get all the updates.
Mountain Goat has been brewing innovative and ground-breaking beers for almost twenty years. From their Hightail amber ale, their foundation beer, to their Steam Ale, one of Australia's first organic beers, to their Rare Breed and Barrel Breeds, limited in numbers but unrestrained in flavour, technique and creativity – Mountain Goat has been at the forefront of Australian craft beer since 1997.
Company contact details: 
email goat@goatbeer.com.au
ph 03 9428 1180
www.goatbeer.com.au
Tw: @goatbeer
IG: @goatbeer