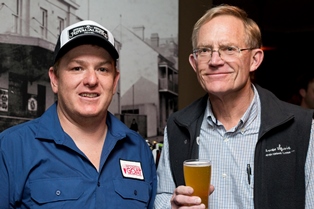 Royal Albert Hotel owner Mick Bain (l) withChuck Hahn (r)
Thejam-packed program for the fourth annual Sydney Craft Beer Week (SCBW) was announced on Monday at theRoyal Albert Hotel in Surry Hills.
More than 40 of Sydney's leading venues will host the city's largest and most exciting celebration of craft beer, with more than 100 beer flavoured events happening from October 18-26.
Sydney Craft Beer Week offers experienced craft beer connoisseurs, as well as newcomers to the scene, the opportunity to experience all that the craft beer community has to offer. Visitors and Sydneysiders alike will let their taste buds do the talking as they travel between craft breweries, pubs, restaurants, galleries and pop-up installations over the packed week-long event.
"Though we've grown faster than we ever imagined, we're proud the event still has a local and relatable feel, giving everyone attending a sense of ownership of these locally-produced craft beers," said Sydney Craft Beer Week director Joel Connolly. "In a way, there is a definite form of community spirit and kinship built and celebrated during the festival, as we give craft beer a much deserved time to shine."
The festivities for the Sydney Craft Beer Week will kick off with a Gala Event on Friday, 17 October at The Giant Dwarf Theatre. The week's opening night will get beer fans prepped for a week of tantalising experiences, with more than 25 Australian and international breweries showing off their goods, to some crafty tunes.
The celebrations will continue throughout the week, with a mix of free and paid events for beer lovers to enjoy including; educational seminars, tap takeovers, beer high teas and even a four course beergustation at the Blackrock Brasserie Beergustation Experiment.
Carriageworks will be home toSip & Savour a two day beer festival within a festival October 25-26, which will bring together more than 250 craft beers and ciders, alongside local gourmet foods, homebrewing, live music and a range of interactive and educational seminars.
Stone & Wood will bring back The Big Pig Out, featuring four Pigs and all four Stone & Wood beers on tap. The cheekily named [It's a complete] Sausage-fest! will see Ekim and The Welcome collaborate to present a barbie with a difference, with five gourmet sausages inspired by and accompanied with five of Ekim's brilliant beers.
The Young Cavaliers Block Party will bring together arts, music, culture and beer with a little help from Cavalier, 44 Records and the Newington Hotel. Other highlights include the Feral Tap Takeover at Trinity Bar and The Ultimate Beer Experience at 4 Pines Brewpub Manly.
More than 10,000 beer lovers are expected at Sydney Craft Beer Week so save the date and prepare for an unforgettable beer-fuelled experience.
To check out the program, click here.