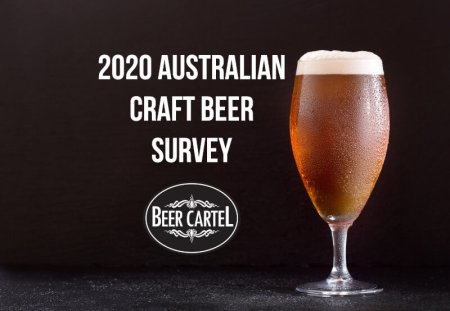 The fifth edition of a national study to better understand attitudes and behaviours of Australian craft beer drinkers has been launched.
For taking part, participants will go in the draw to win $500 worth of craft beer plus they will receive a copy of the survey results.
Have your say here.
Created by craft beer retailer Beer Cartel, the Australian Craft Beer Survey is the largest, publicly released study of Australian craft beer drinkers.
The multi award-winning survey will build upon the previous four years of the same study, which has surveyed over 65,000 craft beer drinkers.
New aspects of the survey this year include: changes in purchase behaviour before COVID-19, at its peak and now; whether stockpiling occurred during COVID-19's peak; and consumption trends for alcohol-free and gluten free beer.
The 2020 survey will continue to measure the awareness and impact of the Independent Brewers Association (IBA) seal of independence, recognise the best Australian brewery, best brewery venue and bar in each state as well as beer's presence in the media.
Beer Cartel's director Richard Kelsey said it will be particularly interesting to see the impact COVID-19 has had on purchase and consumption habits.
"There has been a lot of media coverage on alcohol consumption throughout COVID-19. From the peak of restrictions, through to now where we are seeing some states with minimal restrictions, and others that are experiencing a second wave of Coronavirus cases. It will be fascinating to look at how craft beer drinkers have approached this period," said Kelsey.
In addition, the study will look at alcohol free beer, a segment that has seen significant growth in the past year.
"We want to understand if craft beer drinkers are joining the growing movement of alcohol-free beer. We are starting to see some great innovations in alcohol-free beer and this study will help to uncover if those innovations are turning into consumption habits among craft beer drinkers," he said.
The results of the study will be made public to support growth of the Australian craft beer industry. In addition, Beer Cartel will offer businesses that promote the survey the opportunity to better understand their customer base, through their own tailored report.
2019 Australian Craft Beer Survey Results
Some of the key findings of the 2019 survey included Balter being voted Australia's favourite brewery for the second year; preference for cans overtaking bottles for the first time; and 58 per cent of drinkers were aware of the Independent Brewers Association (IBA) seal of independence saying the seal has had a medium to large impact on their beer purchase behaviour.
Contact Beer & Brewer by clicking here to share your news and views.