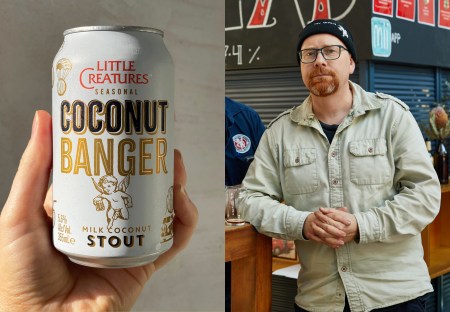 Little Creatures' latest seasonal release the Coconut Banger – a coconut milk stout (5.6%) – was brewed with people's restricted movements in mind. On one hand it's an innovative stout made to savour in isolated contemplation, while the flavour profiles are designed to whisk you away on a holiday of the mind to currently unreachable exotic destinations. Lactose was used in the brew, along with vanilla and rolled oats to create a silky-smooth mouthfeel that complements the notes from the shredded coconut and cocoa. We spoke with their head brewer Russ Gosling.
Why did you choose to brew a milk coconut stout now?
We set ourselves a challenge to brew something for the Winter months that combines all of the hallmarks of a great stout, and an innovative recipe. The ingredients in Coconut Banger stood up and integrated really well together. The right ingredients, at the right addition rates, used at the right points in the process united to deliver a well-made beer.
Where did the inspiration come from, who created the beer and how happy are you with the result?
MJ, our Innovation Brewer, and I created the beer and we are very happy with the outcome indeed. We wanted to brew a beer this year that's perfect to enjoy on the couch, but with a flavour profile reminiscent of a holiday to your favourite destination. It is a very good, innovative stout that has stretched our craft.
What can people expect from the Coconut Banger in terms of flavour, aroma and drinkability?
Coconut Banger is a rich chocolatey stout that integrates subtle hints of coconut, vanilla and cocoa to enhance the beer without impacting its drinkability.
Were there challenges in the brewing process of it?
The challenge was working out the right addition rates of the novel ingredients. We really needed to get this right to achieve a well-balanced integrated character.
What can people look forward to in terms of future Little Creatures Seasonal releases?
Each Little Creatures Seasonal release comes to life with our purpose in mind: 'it's the little things that make a difference'. This year we wanted to push the bar on innovation and give people a highly drinkable stout using exotic ingredients they may not have experienced together in this way before. Coconut Banger is a modern take on an older style of beer that makes the time we're all spending at home more of an occasion. Moving forward, our Little Creatures Seasonals will be an expression of what's important to us, as well as to our community. We've got some exciting things brewing!
Contact Beer & Brewer by clicking here to share your news and views.