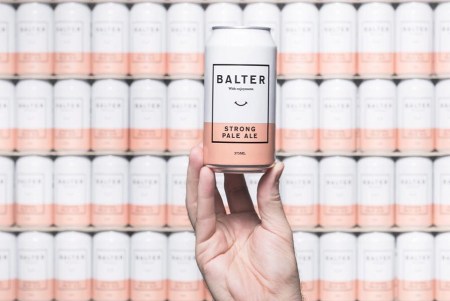 Balter has announced the release of Strong Pale Ale, the fourth and latest full-time addition to the brewery's core range.
Described as a beer for hop-lovers who want something bigger than an American Pale Ale but without the grunt of an IPA, Strong Pale Ale (5.9% ABV, 45 IBU) comes packaged in a peach-tipped tin "as a salute to its orchard of fruity accents."
"Wrestle your thirst to the mat, with this Strong Pale Ale," the tasting notes read. "Its smooth malt profile drips with juicy hop notes, and a snappy bitterness that finishes with a firm hand. Flex your flavour muscles and crack open the door to a little bit more."
A relatively underrepresented category of beer, Strong Pale Ale also gives beer geeks something to sink their teeth into, both taste and conversation-wise.
"Strong Pales are distinct in that they balance sweetness and bitterness, letting the hop character carry the show," explains head brewer Scott Hargrave.
"However, sometimes any beer above 6% gets automatically graded as an IPA. It's a grey area and one that makes for fun debates between brewers and beer lovers alike. If you taste the two together though, the difference is pretty clear.
"We talk about 'the hop gearbox' a lot at Balter. This is a new shift in the transmission, gearing toward top hops but not revving all the way up. It lets you flirt with a deep taste romance without redlining your flavour engine."
Strong Pale Ale has already rolled out in QLD, NSW and VIC, and is set for national distribution in April. For your nearest stockist, use the Balter beer tracker.