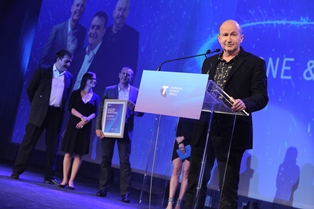 Stone & Wood Brewing Company co founder Jamie Cook
Building on the success of winning theNSW Regional BusinessAward,Stone & Wood has gone on to win the national equivalent and take out the Regional Award at the 2014 Telstra Australian Business Awards.
Stone & Wood was recognised for the desire ofco foundersJamie Cook, Ross Jurisich and Brad Rogers to change their lives and the country's brewing industry. Established in 2008 as a traditional village brewery with a contemporary business model, Stone & Wood has experienced almost 100 per cent growth in turnover in each of the past four years.
Jamie Cook said winning the Regional Business Award provided the 24 members of the Stone & Wood team with acknowledgement that they were heading in the right direction and were part of a strongly performing business that gave the local community a sense of pride.
"We believe it is critical to support our communities, including our employees, suppliers, customers, drinkers and residents of NSW's North Coast and South-Eastern Queensland and continue to look for ways of adding further value to them. With this award, we hope to highlight that this provides a model for other businesses to learn from," said Cook.
Stone & Wood, whose beers include Pacific Ale, Stone & Wood Lager, Jasper Ale and limited edition beers such as Cloud Catcher, Stone Beer and Garden Ale, attributes its success to sticking to the tradition of the brewer not only delivering fresh and high quality beer but also supporting the community it operates in.
In addition to its primary commitment to meet the demands of its local community pubs, clubs and bottleshops, which at times has meant it's been unable to meet demand of the national retailers, Stone & Wood has established Ingrained, a program that supports local grassroots causes committed to creating sustainable and social outcomes.
As part of the program, Stone & Wood donates a Karma Keg to local pubs, clubs and other venues where people pay whatever they like for the beer until it runs out with all the proceeds going into a fund that then makes donations to local groups, charities and people in need.
Stone & Wood co founders(L to R) Jamie Cook, Ross Jurisich andBrad Rogers
Telstra Business group managing director and Telstra Business Awards ambassador Will Irving said the 2014 national winners excelled in their ability to be brilliantly different and change industries by either creating new businesses or thinking about old business models in new ways.
"Stone & Wood Brewing Company has taken the traditional brewing model and overlaid it with new thinking to create a strong brand and generate demand that has led to the construction of a larger and more modern brewing facility in Murwillumbah," Irving said.
"This is a great example of where passion has driven a business in a way that the pursuit of profit alone could never match. The judges were particularly impressed in the way the team at Stone & Wood have developed a sustainable vision to ensure that the passion and dream generates significant growth, profitability and brand longevity so as to maintain their 'X factor' well into the future."
Other winners of the national Awards attended by Federal Treasurer Joe Hockey were trailblazing Tasmanian whisky distiller Lark Distillery, South Australian electronics manufacturer Redarc, Northern Territory pharmacy Country Wellness Pharmacy and experiential hair and wellness salon Urban Escape.