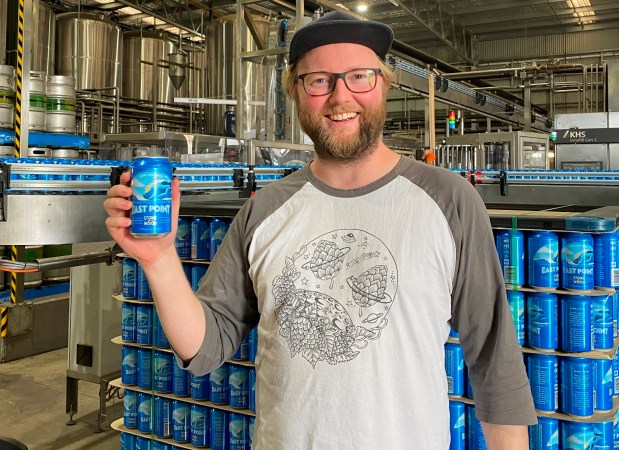 Back in 2008, when Stone & Wood's Draught Ale, now Pacific Ale, first saw the light of day, it was totally against the grain of what other Australian breweries were looking to put out.
Inspired by the success of Little Creatures Live (Pale Ale), a lot of craft breweries were scrambling to replicate that same American style. But Stone & Wood's founders wanted to find a different niche in the market and one that would back up their desire to create approachable, sessionable craft beer that didn't necessarily follow trends – but set them.
Fast forward to the present, and many millions of litres of Pacific Ale per year later, and Stone & Wood are at it again and head brewer Caolan Vaughan (pictured above) wouldn't mind if we were sitting here in another decade writing about how they once more proved to be ahead of the curve.
Instead of adding their considerable weight behind the movement towards the 0.5% and under beer category, Stone & Wood this week released the 2.7% East Point to their core range – a beer that doesn't fit into any specific style but, like Pacific Ale, takes its inspiration from European tastes. It's the first new entry in their core range since Cloud Catcher in 2014.
"East Point is kind of similar to what we did with Pacific Ale back in the day – where we're finding a little niche in the market and we see that gap now in the lower alcohol space," Caolan said.
"We've been experimenting with this category of beers for some time – testing different flavour profiles and what we've liked from different styles of beer – and what we've got with East Point is not one defined genre but one that takes inspiration from different European beer styles. What you end up with is a truly refreshing beer. It's perfect."
Beer & Brewer is yet to try East Point, but Caolan said drinkers could expect a refreshing, zesty beer that displayed citrus, fruit and ester profiles, a little bit of acidity, with hints of salt to help balance it out and create a full-flavoured beer that belies its ABV.
"Independent craft breweries operating in the lower alcohol beer space just makes sense," Caolan said.
"Traditionally we've often been at the bigger end of alcohol content in beer, but as we considered entering this space we didn't just want to release a lower alcohol lager, for example, like the big brewers do.
"We're a craft brewery and wanted to craft something that reflects who we are and what we do as brewers and I feel East Point strikes the perfect balance of that. At no point do you think it's a lower alcohol beer, but the reality is, it is. It's like that ultimate beer."
Caolan said East Point was one of the most challenging beers he and the entire Stone & Wood brewing team had been charged with creating. The lower alcohol nature of East Point meant there was little to hide behind as they attempted to deliver a beer that still felt like a beer.
"Making a big IPA is easy. Making something like this, that tastes balanced and refreshing and highly drinkable, is the real challenge.
"Don't get me wrong, the flavours here aren't subtle. But at the end of the day 2.7% is lower alcohol. So what we've done is combined lots of different lower level flavour complexities, a little bit of acidity, a little bit of that zesty tang, a little bit of citrus and salt and really nice ester profiles from a yeast strain we've used. And all that combined has resulted in an almost moreish, very approachable beer."
The similarities with Pacific Ale can even be found in East Point's name itself. Where Pacific Ale referenced the Pacific Ocean that borders the brewery's coastal location, East Point juts it out even further into that body of water and namesakes the most easterly point in Australia – Cape Byron.
"It's paying homage to our backyard and East Point is just one of those super refreshing beers that epitomises the lifestyle of where we live."
East Point will be available in four-packs of 375ml cans or cartons of 16 at bottle shops and venues around the country, as well as Stone & Wood's online store, its Tasting Room in Byron Bay and its brewery in Brisbane.
Contact Beer & Brewer by clicking here to share your news and views.