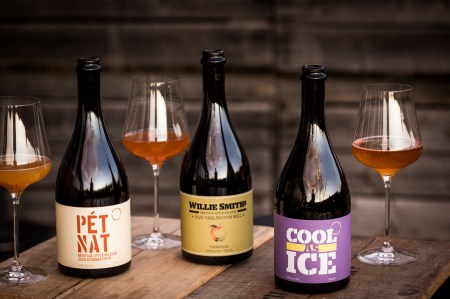 In the midst of the global pandemic, Tasmania's Willie Smith's Cider Makers developed a plan to keep sharing their Huon Valley ciders with craft drinks lovers around Australia – a cider subscription service.
"As lockdown kicked off, we were brainstorming about how to keep people connected to us. After a few full-on weeks, the idea for Cider Club was born," Willie Smith's co-founder and director Sam Reid said.
"Twice a year Club members will receive the pick of our ciders, those really pushing the limits of what cider can be with their use of heirloom apples and different fermentation techniques, delivered straight from our farm to their door."
Each Spring and Autumn members will receive a mix of Club-exclusive and limited release ciders, along with the occasional bottle of Charles Oates Distilling apple spirits – also made on the farm by the Willie Smith's team.
This Spring, it will be only Club members that get to taste two ciders that have never been made by the Willie Smith's team before – the 2019 Cool As Ice, made in the Canadian iced wine style; and the 2020 Pét-Nat, one of Australia's first ciders made the old way, in the pétillant naturel style.
The 2020 Yarlington Mill, showcasing the great English bittersweet heritage apple of the same name, will round out the pack.
For Willie Smith's head cider maker Thomas New, COVID's silver lining was getting the chance to get really creative in the cidery.
"That's how the Pét Nat and iced cider were created," Thomas said.
A former winemaker for Mac Forbes, Howard Park and Stefano Lubiana, Thomas joined Willie Smith's in mid-2019, bringing an ethos of letting the apples, the orchard and the vintage conditions speak.
The Cider Club was launched in September with a dinner by acclaimed chef Analiese Gregory at Willie Smith's Apple Shed.
"We've seen a fantastic response from around Australia, with people joining from all states, including sommeliers, winemakers and chefs – always a great endorsement," Sam said.
For a Cider Club subscription, a twice yearly payment of $195 is required. Each pack comes with 6 x 750ml exclusive and limited release ciders or the occasional apple spirit and members also receive 15 per cent off all Willie Smith's Cider and Charles Oates spirits online, free shipping, and invites to Cider Club dinners.
Learn more at williesmiths.com.au
Contact Beer & Brewer by clicking here to share your news and views.