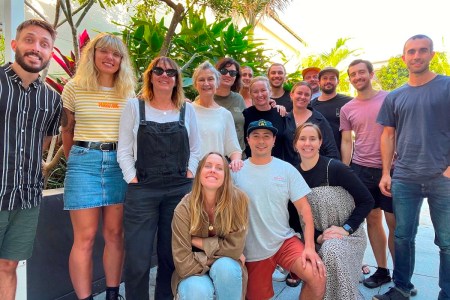 Stone & Wood's inGrained Foundation have announced 10 local not-for-profits have been awarded a Northern Rivers Large Grant this year, with over $211,000 being divided between the organisations.
The inGrained Foundation's James Perrin (pictured above, second from right with other members of the Foundation's committee) said: "The Grants Committee were once again overwhelmed with incredible applications this year, especially given the social and environmental impacts post-Covid and the floods.
"We are so grateful to all of the community groups giving their heart and soul to our region. Congratulations to the successful recipients, and we look forward to continuing these grants and growing our giving efforts in future years."
The 2022 Northern Rivers Large Grants follow the inGrained Foundation also donating $150,000 to grassroots organisations earlier this year to aid flood recovery in the Northern Rivers. It also continues its program in Stone & Wood Taprooms where $1 per litre of beer sold goes directly to an appointed local charity every month.
The successful recipients for the 2022 inGrained Northern Rivers Large Grants Program are:
Autism Camp Australia: This organisation runs programs of support for families who have a child/children who are on the Autism spectrum. With their grant, they will be able to fund a year of their Brothers and Sisters Unite program that will see over 100 famlies come to their Northern Rivers camp for a week of activities, counselling and support.
Bangalow Koalas: have been creating and caretaking for a koala corridor from the Queensland border down to Grafton. In the recent floods, over 57,000 of their trees were impacted. Their grant will go towards replanting over 9000 of those trees, with a focus on the Richmond Valley area.
Coolomon Community Inc: focuses on Indigenous mothers and babies pre-term to six months. With their grant, Coolomon aim to support 144 Aboriginal newborns and their families, with the gift of the Coolomon Crib and newborn essentials, and specific clothing and feeding support for premature babies and their mothers.
Green Heroes: are educating and empowering theTweed community to become custodians of local natural environments. With their Grant, Green Heroes plan to provide Padi diving training for local indigenous community members, in order to collect data and become the custodians of Jungarra Ngarrian (Cook Island). This program is in partnership with the NSW Government Marine Estate Management Team.
Human Nature Adventure Therapy: Through their Activ8 Outdoor Youth Mentoring program, Human Nature Adventure Therapy offer immersive outdoor counselling services for teens in need in our community. Their inGrained grant will support the delivery of many more one-on-one outdoor counselling sessions building mental health and resilience.
Murwillumbah Community Centre: provide a diverse mix of services, support and facilities to the Tweed Shire. After losing their van in the recent floods, MCC will use their Grant to purchase a new 12-seater van that will enable them to assist community members with food donation drop offs, provide transport for isolated community members and enable off-site activities for community groups.
Rainforest 4 and Halfcut: These organisations are working together to restore and protect the rainforest and its ecosystems for the benefit of wildlife, traditional owners, people, climate and the planet. Their grant aims to enable the planting of 3000 trees in damaged creek and river ecosystems in Federal and Mullumbimby. They will engage local indigenous and non-indigenous volunteers as part of the program.
REDinc: is a grassroots organisation that support and service vulnerable children and adults (both indigenous and non-indigenous) who are living with a disability. With their Grant, REDinc are aiming repair damages made to their day centre in Mullumbimby during the recent flood events. These repairs will give community members access to bathroom facilities and a communal outdoor area.
The Shift Project: is an educational transition program for women who are homeless or at risk of homelessness within the Northern Rivers. With their Grant, Shift intend to purchase equipment for their Ngali Design Initiative which will see disadvantaged women trained and employed in a design and textiles program, giving them a regular income and a new skillset to take into the future.
Zero Emissions Byron: ZEB's purpose is to accelerate Byron Shire's zero net emissions by engaging the community to become a part of or increase their emission reduction activities. With their Grant, ZEB plan to work with the local indigenous community and landholders to create and implement a Good Fire Property Plan; a register of property owners engaged and public education on the benefits of a "cool burn" to our local landscape.
This is an edited version of a media release distributed by Stone & Wood.