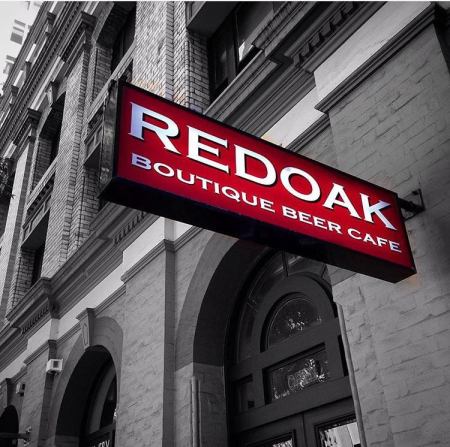 After an almost two decades reign on Clarence Street in Sydney's CBD, the iconic and pioneering Redoak Boutique Beer Café has sadly announced it will be closing its doors for good. With final drinks being poured this Saturday (June 11) "on the stroke of midnight", former Redoak employee and UK-based writer Jonathan Chadwick looks back fondly at the trailblazing venue for us and details why he owes the place so much.
"I worked at Redoak – officially Australia's most awarded brewery – over two stints, from 2010 to 2012 and for a few months in 2014. Redoak was my first home in Australia. I got the job there before I even found a place to live. In the first month as an employee I was even coming straight to work from staying in a backpacker hostel in The Rocks.
Being from the UK, I was used to run-of-the-mill pubs pouring stuff like Grolsch, so I'd never thought about beer too deeply. I quickly learned that Redoak was in another class.
The company was all about putting beer "on the pedestal that it deserves" and giving it the same respect and consideration as a fine wine or spirit.
Stepping inside Redoak was a unique experience. Upon entry you'd be struck by the swish décor, inspired by beer bars in Belgium – full of wooden flooring, marble surfaces and plush furnishings. You'd be guided to a table in the restaurant or directed to the bar, where you could check out what was on offer on the 12 taps. Staff members were always trained to build up knowledge of each individual beer, and we swiftly developed our own favourites to recommend to customers.
The selection ranged in price depending on the brewing methods involved for each beer. Back when I started working there, 250ml of the English Bitter from the tap was just $4 – impressively cheap for such a quality brew – even then. Every dish on the restaurant's menu was paired with a beer recommendation, and the head chef used Redoak beer in his cooking.
What amazed me about co-owner and head brewer David Hollyoak (pictured above top left. His sister and fellow owner Janet Hollyoak is above bottom right) was his adeptness at brewing any particular style that took his fancy – from English bitters to German wheats and big, American-style IPAs.
It was always hugely exciting whenever he arrived from the brewery with a new beer that I'd not tried before. He'd usually come late at night in his little van after a day's work at the brewery, situated "south west somewhere" (rumoured to be in Camden). The bar manager would hook up the barrel and we'd sip at the new arrival after our shift, imagining how we'd describe it to customers the next day.
Probably my favourite Redoak beer was the Rauch – so intensely malty and smoky, as if the whole batch had been cooked up over a campfire. I also still think Redoak's Organic Pale Ale is the best pale ale in Australia, with powerful esters and a beautiful orange haze that would simply glow. There was just nothing quite like a pint of the "OPA" after a long shift.
David used to say his signature brew was the Framboise Froment, a raspberry wheat that he first brewed for his girlfriend back in the 1990s. The beer – always served in a champagne flute with its foamy, pink-tinted head like whippy ice cream – won Gold at the 2008 World Beer Cup in the Fruit and Vegetable Beer category. It's one of the many global awards won by Redoak since 2004.
A special mention is also due for the Special Reserve, a super-luxurious barley wine with aromas of dried fruits and vanilla. Fermentation of a batch would take 12 months, followed by another couple years of maturation in oak barrels. Because of its extensive brewing process, a 330ml bottle of the Special Reserve would cost $75 – but once it passed your lips you'd know it was worth it. I remember one Christmas party David opened a few bottles of the Special Reserve for staff to share. After I'd tasted it he asked for my verdict. "Liquid gold!" was my reply. Even today I've still never tasted anything quite like it.
I owe so much to Redoak – my son exists because my girlfriend and I met there as employees. I'm devastated to think that I'll never be able to sit at that bar again – part of my heart will always be in that building. But I'm also happy the Redoak family is carrying on brewing and starting an exciting new chapter. Thanks for having me guys, and here's to the next 18 years."
Editor's note: Whilst Sydney's CBD will never be the same without the Beer Café's presence, thankfully this is not the end of the Redoak story, with brother and sister owners Janet and David Hollyoak committing to opening their "south west somewhere" brewery to the public for the first time. In their Facebook statement about closing the Café they said "the time has come for a change and to go back to our roots. We ask that you wait patiently as we get our 'original beer home' ready. Yes, you heard right, we will be inviting you to enjoy your next Redoak beer at the brewery – so stay tuned and very much watch this space".
Redoak Boutique Beer Café is at 201 Clarence Street in downtown Sydney. If you can, head along before they close up for good this Saturday (June 11).