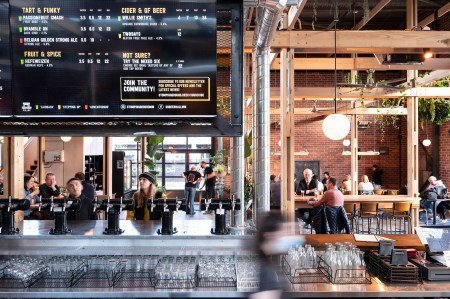 After a year-long delay due to COVID, Melbourne brewery Stomping Ground has finally unveiled its latest Brewery & Beer Hall in the former Phillip Morris cigarette factory in Moorabbin.
Founded by Steve Jeffares, Guy Greenstone and Justin Joiner, Stomping Ground opened their first, and multi-award winning, flagship Brewery & Beer Hall in Collingwood in 2016, followed in 2020 by another at Melbourne Airport (the first working brewery inside an airport in Australia), so the arrival of the 460-person capacity (without restrictions) Stomping Ground Morris Moor has been keenly anticipated.
Justin explained that "after a tumultuous 15 months, Morris Moor presents an exciting opportunity for the three of us, and our team, to share our love of beer, culture and hospitality with more Melbournians south of the river, especially as we all live locally. This is literally our own stomping ground!
"There are already many fantastic independent breweries in Melbourne's south east, so there is clearly a thirst for great beer and hospitality down here, so we're really excited to join the neighbourhood."
Once again designed and built with long-time collaborators Studio Y, Platform Spaces and MIC, Stomping Ground Morris Moor is located in a building previously home to the vast mechanical facilities that heated and cooled the entire Phillip Morris factory site. It includes a massive beer hall pouring up to 25 different beers (predominantly their own but also currently from Steve's brother Richard's gluten-free brewery TWØBAYS and cider from Willie Smith's), outdoor beer gardens (one with a retractable roof) with a shuffleboard table, a three storey Castle and Cubby house, and Boiler Hall, a beautiful function, wedding and event space.
The founders wanted to retain much of the building's history, but also ensure their newest venue shared the same DNA as their original home in Collingwood.
"The brief to our design partners was for it to feel 'reassuringly familiar' for customers", Steve said. "While there was plenty of design flare, we did this while retaining much of the original building's character and vast ceilings, before adding communal tables and large central bar, along with vast greenery, a cubby house and repurposed items salvaged from the site."
And the ever important tap list?
"We passionately believe there's a beer for everybody, so our ever changing offer ranges from smashable lagers through to pale ales, IPAs, fruit sours, Belgian styles and delicious malty beers and stouts", Justin said.
While many of the beers will be brewed at Stomping Ground's main brewery in Collingwood, brewer Marc Robinson will be brewing plenty of limited release keg beers for all three Stomping Ground venues on the 12 hectolitre brewery on display at Morris Moor.
The diverse food menu of executive chef Ben Issac is thankfully similar to the one in Collingwood, including the much loved schnitzel, steak and pizzas.
The developer Up Property's vision for the 60-year-old Phillip Morris cigarette manufacturing site is to create an exciting new urban destination for the local community with other leading hospitality operators Penny for Pound and Royal Stacks to join Stomping Ground in the coming months
Open seven days a week from 11.30am, you can find Stomping Ground Morris Moor at 9 Cochranes Road, Moorabbin, VIC.