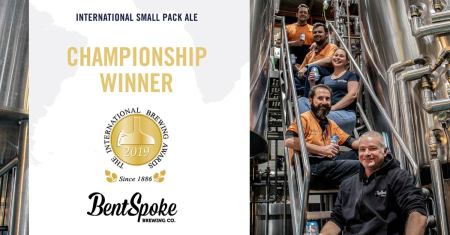 Entries are now open for the 'Oscars' of the brewing and cider world – the International Brewing and Cider Awards. First held in 1886 and now contested every two years, the awards are the most historic international beer and cider competition of its kind.
Originally scheduled to take place in March this year, the awards will now be announced in late November following entries closing on October 1. For more information about the awards, including a list of categories and entry criteria, visit the Awards' website.
The 2019 event attracted over a thousand entries from breweries and cider mills from around the world, with winners coming from Europe, North America, South East Asia and Australasia.
BentSpoke Brewing (pictured above) were the most outstanding of the Australian winners at the last event as they backed up winning gold and silver medals for their Barley Griffin Pale Ale and Crankshaft IPA respectively by having Barley Griffin receive the Champion International Small Pack Ale Trophy.
For the 2021 awards, new categories have been announced to reflect key trends that have emerged in the beer and cider markets since the last event.
In the beer competition, a new Zero Alcohol category will be added to reflect the growth and interest in this market segment. Because legislation on the alcohol levels permitted in non-alcoholic beers differs across countries and regions there will be three categories in this class: Zero Alcohol (ABV 0.0-0.05%), Ultra Low Alcohol (ABV 0.06-1.1%) and Low Alcohol (ABV 1.2-2.8%).
In the cider competition a Rosé category has been added to reflect the growing trend for pink ciders. The pink colour can come from the addition of fruits, but some Rosé ciders are achieved through the fermentation of red fleshed apples – a truly challenging technical process.
The new categories are part of three cider categories and 10 classes and nine beer categories and 33 classes, which include a Zero Gluten beer category. The Zero Gluten category is strictly for beer that does not contain gluten and is made from ingredients which do not contain gluten. The class was introduced to differentiate Zero Gluten beer from those which can be labelled gluten free in some markets but can contain a low level of gluten. Creating a truly Zero Gluten beer requires great innovation as producers find alternative gluten free ingredients.
A judging panel comprising practicing brewers and cider-makers judge each entry blind, assessing each beverage on its sensory appeal, distinctiveness and character to reach a consensus decision on the commercial worth of the beer quality.