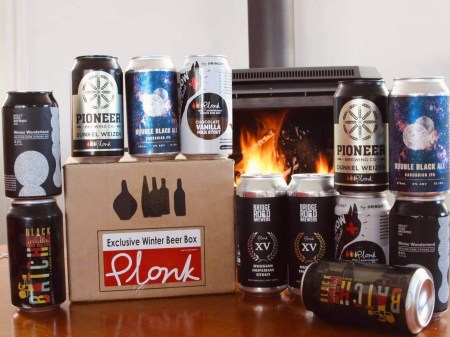 Independent Canberra liquor retailer Plonk is celebrating its 15th anniversary with a dark beer box for Winter that's full of exclusive collaborations with Australian breweries.
Featuring two dark beers apiece from six independent Australian breweries, Plonk's Exclusive Winter Beer Box is the result of over a year's worth of work after they discovered a fellow pioneer of the industry was celebrating the same milestone.
"In June 2020 we realised that one of the stalwarts of the Australian beer scene, Bridge Road Brewers, was having their own 15th year," Plonk's owner Anthony Young said. "So we asked (founder) Ben (Kraus) and the team there if they'd like to brew a 100 per cent barrel-aged Russian Imperial Stout. They suggested that they brew two beers for us, one aged in Corowa Whisky casks and the other in Warrabilla (Rutherglen) red wine Durif barrels.
"The finished beers are amazing. We then approached five other independently owned Australian breweries to join the party."
The other breweries in the box are Prancing Pony, Thirsty Crow, Batch, Molly Rose and Pioneer.
"We have been supporting all these breweries since they launched," Anthony said. "We looked at the beer styles they do particularly well and asked them to brew something special for us, which they have done!"
2 x Bridge Road BA Imperial Stouts 440ml, 9.6% (1 x red wine barrel-aged, 1 x whisky barrel-aged
2 x Prancing Pony Black Double IPA 375ml, 8.0%
2 x Thirsty Crow Chocolate Vanilla Milk Stout 375ml, 4.7%
2 x Batch Double Milk Stout 375ml, 7.0%
2 x Molly Rose Belgian Dubbel 375ml, 8.0%
2 x Pioneer German Dunkel Weizen 375ml, 5.0%
1 x tasting notes with exclusive videos from all the brewers
Due to COVID restrictions it was hard for Anthony and his Plonk team to visit all of the contributing breweries in person but they were able to pop down to Beechworth in Victoria to sample Bridge Road's Imperial Stouts direct from the barrel (pictured above).
And while those same constraints remain Plonk has already begun compiling their 15th anniversary Summer Beer Box that will feature six more independent, family-owned Australian breweries and their six classic beer styles.
From opening their doors in 2006, the family-owned and independent Plonk now boast two Canberra locations (inside the Fyshwick Fresh Food Markets and also the Belconnen Fresh Food Markets) and have become a craft beer go-to destination in the nation's capital.
"When my wife Liz and I started Plonk, our three boys were three, five and eight years old. Gus, Elliot and Louis now work in the business and that's really rewarding. They constantly offer great suggestions on the direction we should take Plonk," Anthony said.
"Our staff, past and present, have been an amazing asset to us, they are knowledgeable, personable and incredibly willing to offer their tips on newly arrived products and food matching ideas."
This is an edited version of an article that first appeared in our sister publication National Liquor News.