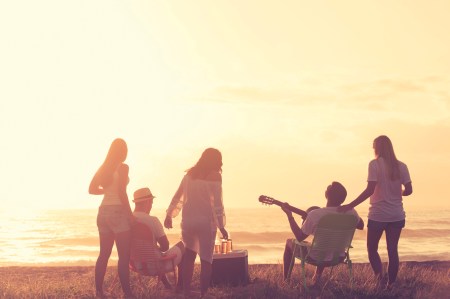 Craft beer and lower alcohol percentages haven't traditionally been a natural pairing – but as we found out in our Summer 2017/18 issue, with the rise of the session ale, there's more options than ever for the discerning drinker. 
Mid-strength beers have been a part of the beer landscape in Australia for years; according to the latest statistics from industry body ALSA-IRI, they were the second fastest growing segment in the liquor market in 2016. However, it's only in recent times that Australian craft brewers have also released mid-strength (or thereabouts) 'session beers' that also incorporate the craft world's dedication to flavour. But what actually constitutes a session beer?
In Session Beers: Brewing for Flavor and Balance, author Jennifer Talley writes that the term 'session beer' is a modern one that has only been in circulation in America since 1982. However, session beers themselves – as defined by their alcohol percentage that must not exceed five per cent ABV – have been produced for hundreds of years. What makes session beers different is the fact that they're not a separate style in and of themselves – like, say, an IPA or a porter.
"Many folks will continue to argue the exact amount of alcohol that can exist in a beer termed a session beer," writes Talley. "What is indisputably not up for debate is that session beer must be enjoyable to drink multiple pints of in a single sitting and be relatively low in alcohol. In addition, it must be unequivocally made of high-quality ingredients; low alcohol alone does not make a session beer."
Paving the way for the session beer style in the US were beers such as the Founders All Day IPA, Lagunitas DayTime Ale, and Oskar Blues Pinner Throwback IPA, but it's only in the last couple of years here in Australia that the term has entered the average craft beer drinker's vocabulary.
DOWN UNDER
Bridge Road Brewers' Ben Kraus was one of the first in Australia to brew a beer that fits the parameters of the session category, releasing Little Bling mid-strength IPA in early 2015.
"The idea behind Little Bling was to offer a mid-strength option, at around one standard drink per bottle, that could provide an experience [so] that we as beer lovers wouldn't feel like we were missing out," Kraus explains. "We wanted to create something that we were excited to drink and enjoy rather than have as a compromise.
"Obviously moderation in drinking in Australia is a macro trend, along with health and wellbeing. I think within the craft beer market in which we operate there was a strong need for craft, mid-strength alternatives. The macro-brewers options have not at all been interesting options, and have no appeal to a consumer who enjoys new experiences and flavour driven beers."
However, as Kraus explains, retaining a full flavour profile when brewing a beer with lower alcohol percentage can be a bit of a headache.
"The obvious challenge in making a full-flavoured, mid-strength beer is retaining body in the flavour profile. Without giving too much away we really focus heavily on the blend of specialty malts we use, combined with high mashing temps in order to leave us with a high final gravity to provide the body in Little Bling."
For the rest of the feature, subscribe to Beer & Brewer here.